Leading Edge HS Recap 4.27.23
Follow Leading Edge on Instagram, Twitter , YouTube and Facebook. Did we miss someone? Let us know.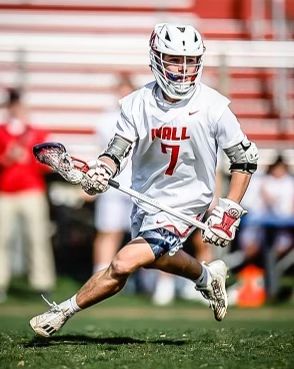 Mikey Hoarle carried out Wall's plan to perfection. Literally.
The Leading Edge 2025 midfielder was a perfect 18-for-18 at the faceoff stripe, complete with 15 ground balls, as Wall crushed St. Rose, 19-0, on Tuesday.
Hoarle chipped in an assist, too. He's been winning faceoffs at a 65 percent clip this spring, complete with 10 points and a whopping 91 ground balls.
'23 John McCurry (Navy) scored four times and set up three more goals in the win. '23 Connor Moore (Stevens) added two goals and a ground ball, while '23 defenseman Dom Giglio (Monmouth) picked up two ground balls to go with his goal. '24 Will Madden (Monmouth) scored once, while '23 defenseman Billy Carr (Denver) tacked on a ground ball.
'23 Cole Cashion (Yale) set up three goals and buried a hat trick to pace the Bulldogs. '23 defenseman Beau Kemler (Villanova) had a goal and an assist, '24 Andy Croddick (Colgate) tallied twice and '25 defenseman Troy Monte scored.
'25 Tucker Malfa won five faceoffs to go with three ground balls for Shore.
'23 Michael Dunleavy (UMBC) kickstarted the Pirates' offense with three goals, an assist and three ground balls. '25 Joe DelMauro tallied once, while '25 Nolan Sabel grabbed a ground ball.
Christian Brothers 15, Middletown North 3
'24 Nick Blalock (Lafayette) paired a hat trick with an assist to highlight CBA's blowout. '25 defenseman Quinn Kelly handed out two assists, while '25 Davis Campbell scored once.
'24 David Brothers (Wagner) snapped home a hat trick to fuel Bernards' rout.
'26 Gabe O'Brien put together a two-goal, two-assist day in the win.
'26 Connor Doel stopped 11 shots to preserve the win.
'25 LSM Michael Poskay grabbed four ground balls in the win.
'25 defenseman Thomas Keating set up a goal in Eastern's high-flying win.
'26 John Devir snapped home a goal as DBP took home a battle of two of the state's best with an emphatic rout.
'24 Jordan Hernando (Bryant) won eight faceoffs for the Lakers.
'26 Marco Aquino gobbled up four ground balls in the win.
Westfield 15, Scotch Plains-Fanwood 4
'24 defenseman Michael Marshall (Cornell) snared a ground ball and spearheaded Westfield's stingy defensive day.
'24 Rob Tyra (Merrimack) and '26 Lucas Spearnock each posted two-goal, two-assist days for Johnson.
'24 Sean McCeney (Vermont) found the back of the net once for the Hilltoppers.