Leading Edge '22 Ryan McLaughlin Commits to Penn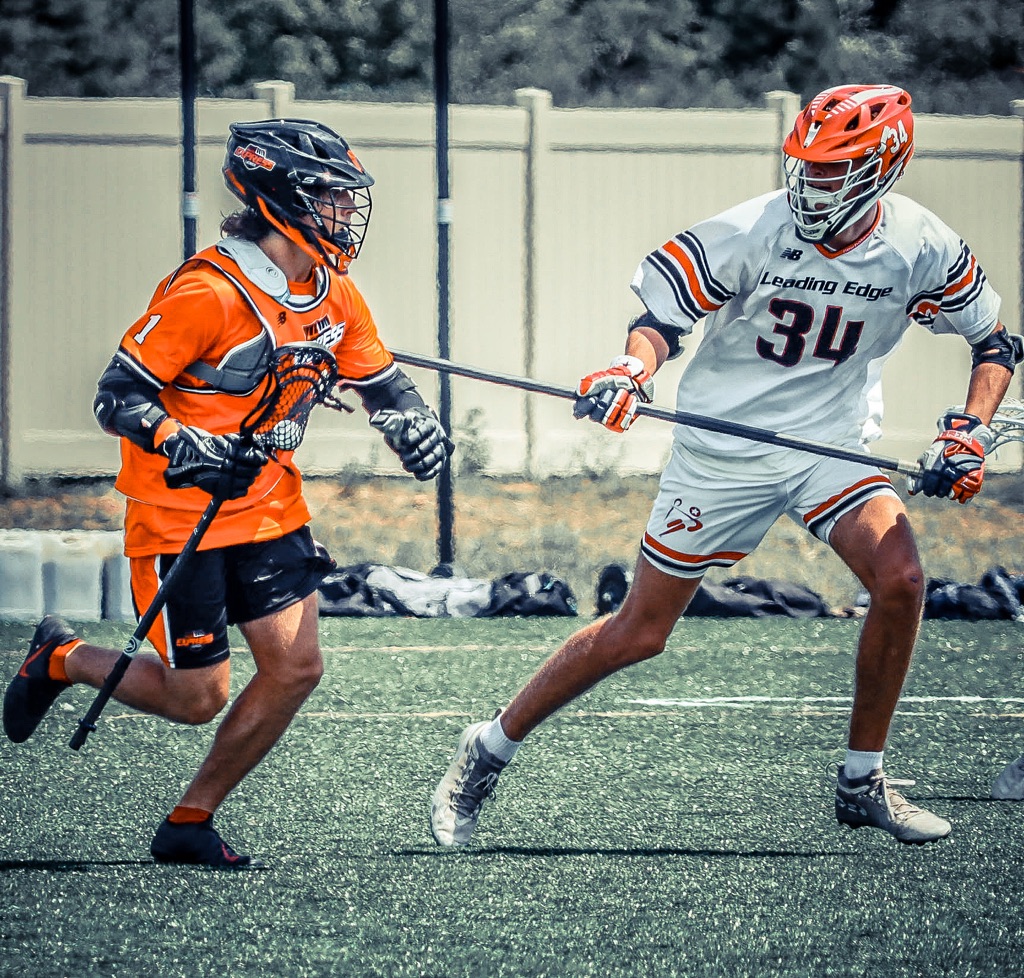 Follow Leading Edge on Instagram, Twitter and Facebook.
Ryan McLaughlin didn't need to wait very long to find out where he stood on so many schools' recruiting boards once Sept. 1 came around last fall.
The Leading Edge 2022 and Mountain Lakes LSM quickly noticed that he was a priority for so many of college lacrosse's top programs when his phone started buzzing at exactly 12:01 a.m. That's when schools were first allowed to reach out to the '22 class, and McLaughlin had vaulted to the top of elite schools' boards at LSM.
"Sept. 1 was a really hectic day. I was even answering calls at 12:45 at night, then the next day I was answering calls from the time I woke up all the way to 6 p.m.," McLaughlin said. "It was really awesome and I'm very grateful for the opportunities that a lot of coaches gave me. I appreciate it more than I can explain."
One of those elite schools, though, stood out more than others. McLaughlin thought back to what he'd been preached to by Leading Edge director Chris Roy, and it helped map out his plan for his recruitment.
"Coach Roy always tells us to use lacrosse to get you into better places, so that's kind of what my thinking was like," McLaughlin said. "From the start, I always wanted a great academic school because academics came first for me."
It's hard to beat the combination of academics and athletics that Penn offers, and the Quakers burrowed their way to the forefront of McLaughlin's list of contenders. A conversation with Penn defensive coordinator Casey Ikeda more or less sealed the deal, particularly when McLaughlin considered everything that the Quakers had to offer.
"I wasn't expecting Ivy calls, and then Penn emailed me and Coach Ikeda hopped on the phone with me, and I was just in awe," McLaughlin said. "I knew 100 percent right away that it was for me. I just had a feeling right when I stepped on campus and just thought, 'all right, this is awesome.' Penn fit me perfectly. It's a big-time Ivy school that fights for an Ivy League title every year and it goes without saying that Penn's academics are incredible."
History-Making Commit
McLaughlin is one of 13 Leading Edge '22s to commit, all to Division I schools, and he's the fourth to commit to the admissiong process at an Ivy school. He'll join Leading Edge '19 Tommy Bavuso (Lawrenceville) and Leading Edge '18 Jamie Zusi (Pingry) in Philly as Quakers, and he's the first commit in Leading Edge history from Mountain Lakes.
"Some people say the city environment isn't for them, but I've wanted to live in the city since I was 11 years old. It's definitely not something that intimidates me," McLaughlin said of going to school in a major city like Philly. "The campus was sick. It was kind of cool to me that even though it's in the city, it doesn't feel like it's in the middle. Lacrosse-wise, I couldn't have been more impressed with Penn and Coach (Mike) Murphy. I talked to him on Zoom and his energy was infectious. The lacrosse program is a perfect example of how Penn is built on tradition."
Total Package at LSM
Rated a four-star prospect and the No. 42 player in the class by the National Lacrosse Federation, McLaughlin is the prototypical modern-day LSM. At 6-4, 180 pounds, he's got the massive frame to make plays all over the field. He's one of the best takeaway artists in the country and has been known to send a stick or six into orbit. As he continues to refine his game, add size and play against the best competition in the nation with Leading Edge, McLaughlin should reach his enormous potential in no time.
Yet a few years ago, he didn't know how good he could be and if he'd be able to play at the next level. Playing at the prestigious NLF Futures at IMG event gave him a ton of confidence, particularly when he was named to the all-tournament team. That set into motion the idea that he could be one of the country's best players if he kept working at it.
Becoming Elite at Leading Edge
"I tried to put in as much work as possible after that because I realized that this could be a really big thing," McLaughlin said. "Then I came to Leading Edge and Coach Roy was my coach, and I thought to myself, 'this is serious. There's no screwing around.' If you want to be the best, Coach Roy sets you up to be the best. How you much you take advantage of his guidance will determine how far you go."
From Roy's perspective, Penn got itself one of the best poles in the country, and few players have McLaughlin's absurd potential.
"Ryan is an absolute game-changer at the LSM position. He creates a ton of problems for offenses in the middle of the field. He's enormous, but he can also really move well in transition and in coverage. He has as good a stick from a pole as I've seen in quite a while. Ryan is super skilled and I think he's going to be even better in college," Roy said. "More importantly, it's awesome to see him choose an exceptional school like Penn, where he'll have access to both elite lacrosse and elite academics. He's a hard-working kid who do great things as a Quaker and I'm pumped to see him in action."
Leading Edge 2022 Commitments
(Click here to see all Leading Edge commitments)
Ryan Bilello, defense, Manasquan – Colgate
Christian Bockelmann, attack/midfield, Rumson-Fair Haven – Yale
Tripp Didden, defense, Deerfield (Mass.) – Johns Hopkins
Matt Dollive, midfield, Wall – Army
Luke Engelke, faceoff midfield, Pingry – Duke
Mikey Kloepfer, midfield, Scotch Plains-Fanwood – Merrimack
Harry Laferriere, goalie, Kent (Conn.) – Brown
Dylan LeBlanc, defense, Manasquan – Loyola
David Link, attack, Delbarton – Villanova
Ryan McLaughlin, LSM, Mountain Lakes – Penn
Konrad Miklaszewski, LSM, Montclair – Yale
Jack Turner, attack, Ridge – Colgate
Jaz Zanelli, goalie, Seton Hall Prep – Bucknell