2023 Leading Edge in College: May 8 Recap
Follow Leading Edge on Instagram, Twitter , YouTube and Facebook. Did we miss someone? Let us know.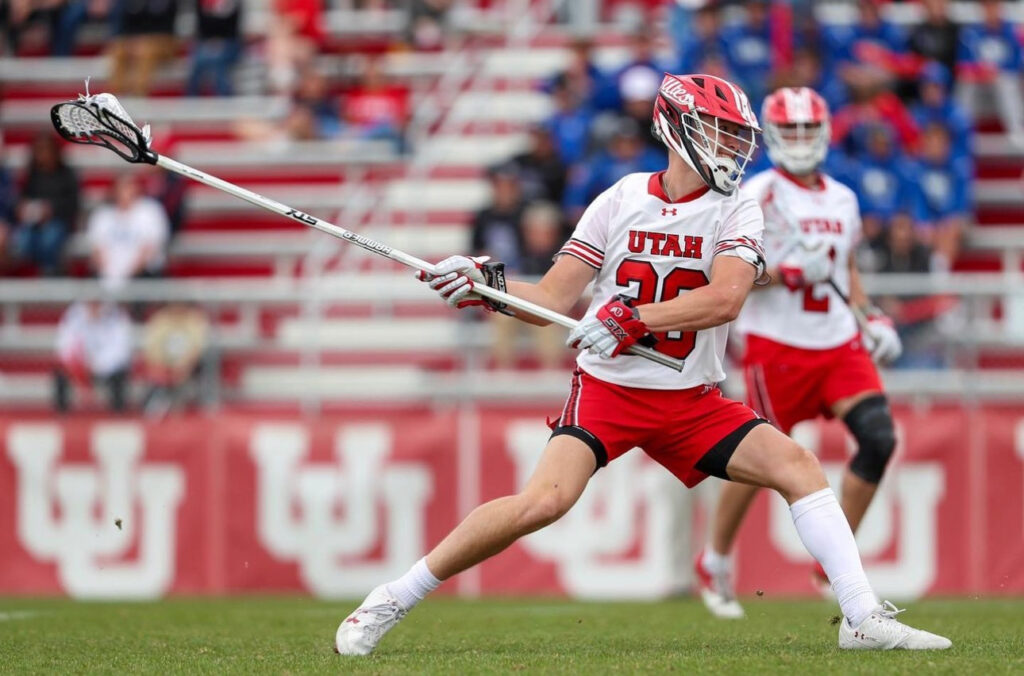 Utah is NCAA tournament-bound for the first time!
The Utes made sure of it by topping Air Force, 11-9, to take home the ASUN Tournament and punch their first ticket to the NCAA tournament. They got there in large part due to strong play in the middle of the field from Leading Edge 2021 LSM Colby Plotts. The Sparta alum collected three ground balls against the Falcons after causing a turnover and securing a ground ball in the semis in a 17-14 win over Bellarmine.
'19 Gavin Peene (Ridgewood) posted matching one-goal, one-ground ball stat line in both Air Force playoff games.
'21 Brendan Cina (Sparta) snapped home a goal for Robert Morris in its 9-8 win over Jacksonville in the quarterfinals.
Atlantic 10 Tournament
Richmond 15, UMass 8
Richmond 15, High Point 8
'19 defenseman Jack Fabean (Manasquan) pocketed a pair of ground balls and helped lead a stingy defense in both the semifinals and final on the way to a championship.
'20 Mason Bregman (Lenape) picked up a ground ball for the Minutemen.
Ivy League Tournament
Yale 22, Cornell 15
'20 CJ Kirst (Delbarton) hammered home five goals to lead the Big Red.
Big Ten Tournament
Michigan 17, Penn State 15
'21 defenseman Kevin Parnham (Pingry) grabbed a ground ball for the Nittany Lions.
Big East Tournament
Denver 16, Villanova 9
Georgetown 19, Providence 8

'18 Will Vitton (Summit) stopped a half-dozen shots and snagged a ground ball for the Wildcats.
'21 Will Ferraro (Seton Hall Prep) popped a goal for the Friars.
Notre Dame 18, North Carolina 9
'18 Chris Conlin (Chatham) picked up two ground balls and added a takeaway to fuel the Irish. '17 Brian Tevlin (Seton Hall Prep) added a goal, four ground balls and two caused turnovers, while '18 Griffin Westlin (Seton Hall Prep) tacked on an assist and a ground ball.
Duke 14, Merrimack 2
'18 Jamie Zusi (Pingry) and '22 Luke Engelke (Pingry) each won a faceoff and grabbed a ground ball for the Blue Devils.
Division III
ODAC Tournament
Washington & Lee 22, Shenandoah 8
Washington & Lee 16, Hampden-Sydney 4
Washington & Lee 12, Lynchburg 11
'22 James Haley (Westfield) had a takeaway and a ground ball against Shenandoah and a goal against Hampden-Sydney to help the Generals win the ODAC.
Centennial Conference Tournament
Swarthmore 12, Gettysburg 11
Franklin & Marshall 9, Muhlenberg 8
Dickinson 19, Franklin & Marshall 11
'22 Cullen Decker (Chatham) handed out a pair of assists and added a ground ball for the Dips in their semifinal win. He tacked on an assist and two ground balls in the final.
'21 Jack Dunleavy (Seton Hall Prep) set up a trio of goals and scored once while also snagging a ground ball for the Bullets.
NESCAC Tournament
Middlebury 13, Williams 7
'22 Cade Schuckman (Mountain Lakes) set up a goal and collected a ground ball for the Ephs.