2022 Leading Edge in College: May 2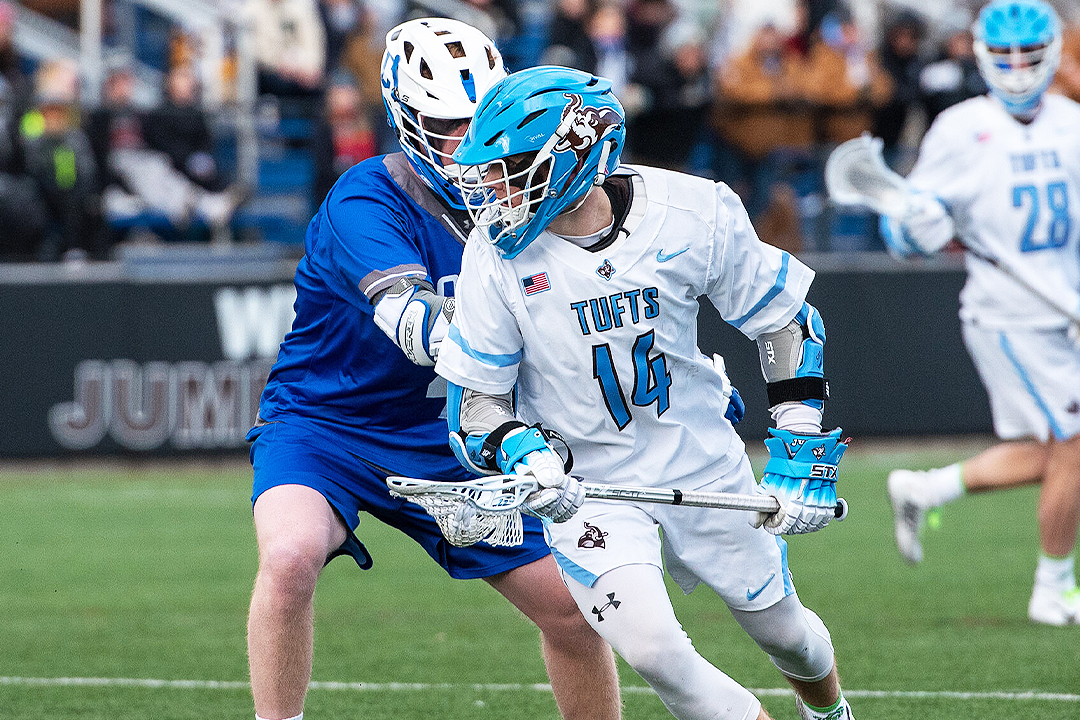 Follow Leading Edge on Instagram, Twitter and Facebook.
Mac Bredahl made sure Tufts kept the pedal to the metal all the way into a NESCAC semifinal berth.
The Leading Edge 2018 alum by way of Chatham played provider for the Jumbos. He dished out four assists and tallied once as Tufts downed Connecticut College, 19-14, in the teams' quarterfinal bout.
Bredahl also had a decent little start to the week when he tuned up Bowden to the tune of four goals, eight assists, five ground balls and a caused turnover in a 23-15 win. Top-seeded Tufts takes on Wesleyan in Saturday's semifinal.
Cabrini 11, Scranton 9
'16 Matt Nestler (Chatham) stoned 14 shots sent his way and grabbed four ground balls to help the Cavaliers edge Scranton. '20 Max Drift (Montgomery) pocketed a goal and set up an assist in the win.
Gettysburg 16, Ursinus 12
'19 Tyler Neal (Delaware Valley) nearly willed the Bears to an upset with three goals, an assist and three ground balls.
Colby 22, Bates 8
'18 defenseman John Farrell (Seton Hall Prep) picked up three ground balls and caused a turnover as Bates' season came to an end.
Division I
Penn 13, Saint Joseph's 12
Penn 19, Albany 11
Saint Joseph's 17, Merrimack 9
'18 Jamie Zusi (Pingry) helped the Quakers fend off the Hawks' upset bit with 14 faceoff wins, including 10 ground balls. Zusi then added 10 faceoff wins and seven ground balls as the Quakers finished the regular season with their fourth straight win.
'17 Jack Anderson (Mendham) collected two ground balls for SJU against Penn before supplying a caused turnover and a ground ball against Merrimack.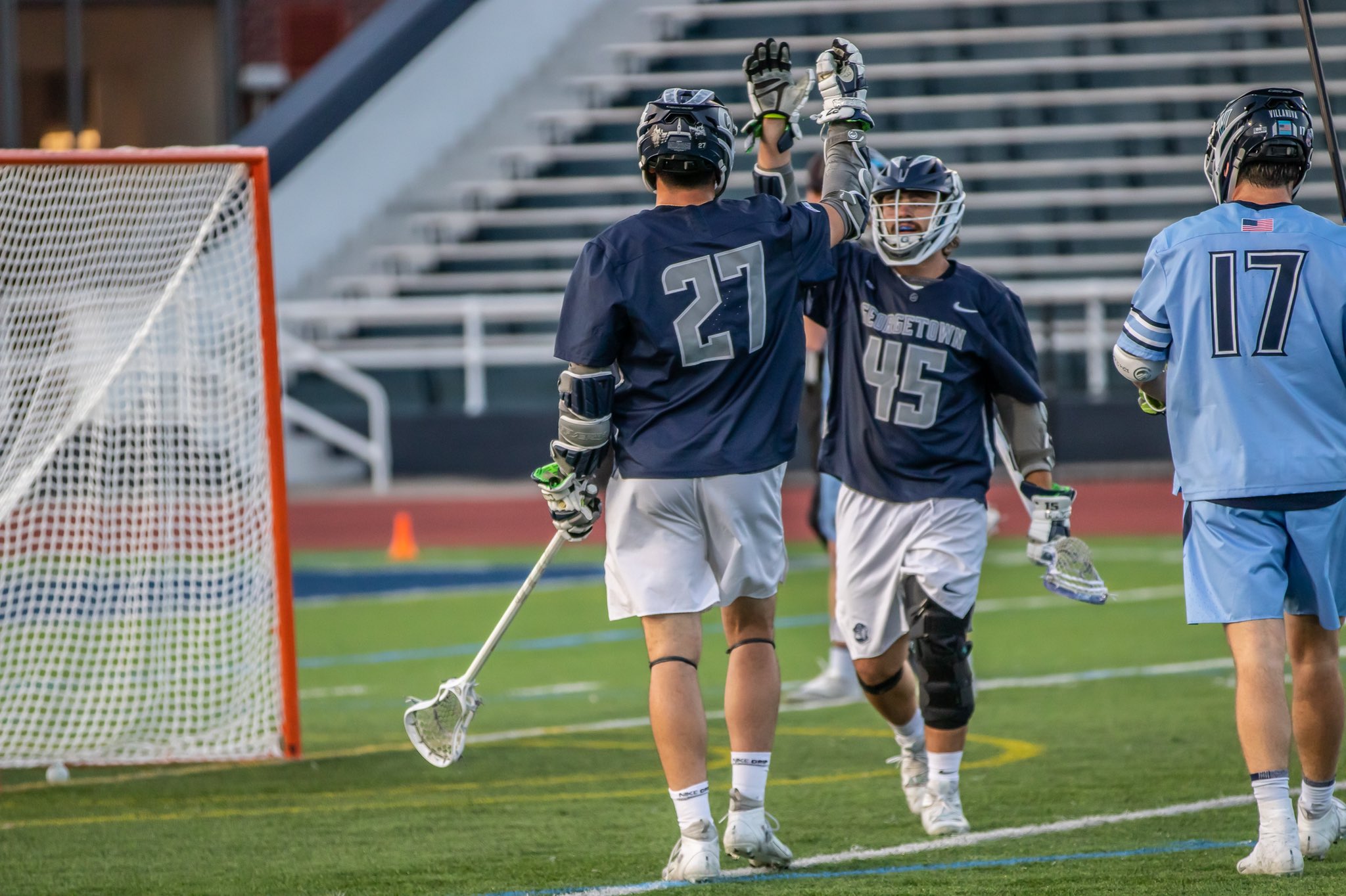 Georgetown 13, Villanova 7
'17 Connor Morin (Morristown-Beard) torched the Wildcats for four goals and a ground ball and '17 Owen McElroy (Avon Old Farms) stoned 11 shots and grabbed three ground balls as the Hoyas finished a perfect Big East regular-season slate.
'18 Will Vitton (Summit) was great in goal for 'Nova, stopping 16 shots sent his way. '20 defenseman Reid Colwell (Westfield) engulfed a trio of ground balls and caused a turnover.
Cornell 18, Princeton 15
'20 CJ Kirst (Delbarton) led the charge for the Big Red, sniping home four goals and picking up a ground ball as the Big Red claimed a share of the Ivy title.
Brown 16, Bryant 9
Brown 15, Dartmouth 6
'21 defenseman Zander Valentini (Benjamin, Fla.) had a ground ball against Bryant and helped the Bears clinch a share of the Ivy League title and the top seed in the Ivy tournament with three ground balls and a caused turnover against the Big Green.
'17 George Grell (St. Peter's Prep) fired home a goal against the Bulldogs.
2022 @IvyLeague Champions!#ThisIsYale | #BoolaBoola pic.twitter.com/8DpOjf1VaL

— Yale Men's Lacrosse (@YaleLacrosse) April 30, 2022
Yale 20, Quinnipiac 13
Yale 17, Harvard 16
'17 Brian Tevlin (Seton Hall Prep) pocketed a pair of goals against the Bobcats, then added four ground balls and a pair of caused turnovers as the Bulldogs earned a share of the Ivy League title with an overtime thriller against the Crimson.
Notre Dame 18, Syracuse 11
'18 Griffin Westlin (Seton Hall Prep) bagged a goal and a ground ball as the Irish collected their fifth straight win.
Providence 20, St. John's 14
'18 Bryce Kirkwood (Ridge) was a beast for the Friars, tucking away four goals in the win. Michael Harris (Ridge) stopped eight shots sent his way
Siena 15, Quinnipiac 10
'17 Jack Kiernan (Ridgewood) buried a hat trick to go with a trio of ground balls to lead the Saints.
UMass 13, Drexel 7
'20 Mason Bregman (Lenape) doled out an assist in the Minutemen's win.
'17 defenseman Sean Quinn (Seton Hall Prep) was his usual self, this time with four ground balls and a caused turnover.
Colgate 14, Holy Cross 12
'21 Jack Turner (Ridge) buried a pair of goals and collected a ground ball in the Raiders' win. '18 Ryan Decker (Chatham) scored once and secured a ground ball for Colgate.
'18 Chris Conlin (Chatham) took the ball away once and grabbed four ground balls for the Crusaders.
Johns Hopkins 16, Penn State 8 
'17 Kyle Prouty (New Egypt) won his lone faceoff and snared a ground ball as the Blue Jays earned a spot in the Big Ten semifinals.
'21 defenseman Kevin Parnham (Pingry) snatched up four ground balls for PSU.
Richmond 14, VMI 12
'21 defenseman Griffin Kology (Chatham) grabbed two ground balls for the Spiders, who won for the sixth time in seven games.
Hobart 14, Mount St. Mary's 7
'18 Brian Mitrow (Hunterdon Central) fired home a goal and collected two ground balls in the Statesmen's win.
Air Force 9, Bellarmine 7
'19 Gavin Peene (Ridgewood) snapped home a goal and grabbed a pair of ground balls for the Falcons.
Utah 16, Detroit Mercy 9
'21 LSM Colby Plotts (Sparta) had a ground ball in the Utes' rout.
View this post on Instagram
Loyola 13, Lehigh 12
'20 Aidan Decker (Chatham) scored an incredible behind-the-back goal and '18 defenseman Patrick McIlroy (Westfield) picked up a ground ball for the Mountain Hawks.
Denver 16, Marquette 8
'20 Luke Blanc (UMass) hammered home a hat trick for Marquette.
Virginia 20, Lafayette 10
'18 Ryan Kirkwood (St. Peter's Prep) caused a turnover for the Leopards.