Leading Edge Week 2 College Recap
Follow Leading Edge on Instagram, Twitter and Facebook. Did we miss someone? Email us to let us know.
Avoiding any and all Leading Edge alums by way of Chatham was easier said than done this weekend, but going near either '17 Kyle Kology or '18 Chris Conlin was an exercise in futility and frustration for attackmen.
Kology was the backbone of a stingy Virginia defense in a 12-8 win over Lehigh as he caused a whopping five turnovers and corralled seven ground balls. Conlin wasn't far behind in Holy Cross' 10-9 win over Vermont with four caused turnovers, including a game-sealing one as time expired, and three ground balls.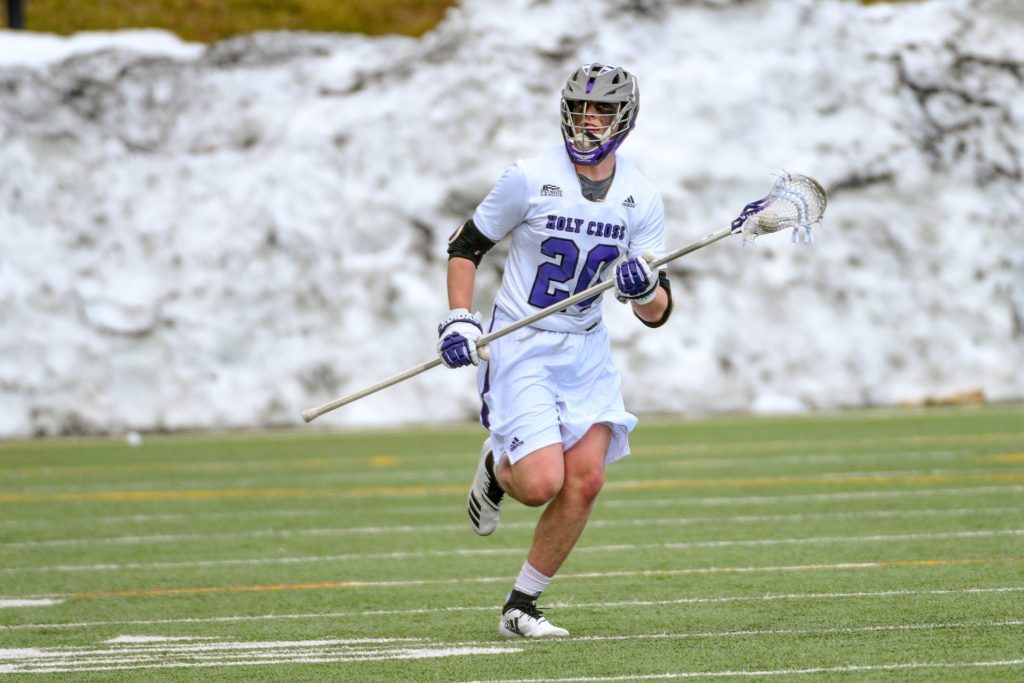 "Our young defense, really kind of spearheaded by Kyle Kology and his decision-making. He [Kology] made some really good decisions on when to slide, when to support the dodger and changing some slides at times. It's really a credit to Kyle and the rest of the defense working together," Virginia head coach Lars Tiffany said. 
Burgdorf repeats as BIG EAST Defensive Player of the Week after his performance in the 16-9 Ocean State Cup victory over Bryant

📰: https://t.co/ZoWvPT3E8w#PCWayEveryday #GoFriars pic.twitter.com/yTy9uKKZjQ

— Providence Lacrosse (@PCFriarsLax) February 17, 2020
Providence 16, Bryant 9
For the second straight week, '17 Toby Burgdorf (Westfield) was the best in the Big East. Burgdorf was incredible in the Friars' cage, stopping 15 shots and grabbing a ground ball to lead Providence to a win and to earn conference Player of the Week honors for the second straight week.
'16 Sean Leahey (Seton Hall Prep) was equally as dominant at the other end of the field, torching Bryant for three goals, two assists, three ground balls and a caused turnover.
Notre Dame 17, Cleveland State 7
'18 Griffin Westlin (Seton Hall Prep) helped the Irish kick their season off with a bang on the strength of his one-goal, two-assist, one-ground ball effort, while '17 Connor Morin (Morristown-Beard) also popped a goal as Notre Dame rolled.
Yale 18, Villanova 12
'17 Brian Tevlin (Seton Hall Prep) set up a goal as the Bulldogs pulled away from the Wildcats despite a Herculean effort from '15 Connor Kirst (Delbarton/Lawrenceville), who scored four times to go with an assist, two caused turnovers and a ground ball. '17 Corey McManus (Summit) also had a big day for 'Nova with a hat trick and an assist, while '18 Will Vitton (Summit) stopped five shots in the Wildcats' cage.
Georgetown 14, UMBC 8
'17 Owen McElroy (Avon Old Farms, Conn.) was stout in the Hoyas' cage, denying eight shots to life Georgetown to its second straight win to start the season.
Brown 11, Quinnipiac 7
'17 George Grell (St. Peter's Prep) pocketed a goal to help the Bears win their season opener.
Duke 15, Denver 13
'16 Kevin Quigley (Ridge) splashed home a goal and grabbed a ground ball as the Blue Devils won a matchup of two top-1o teams.
Robert Morris 22, Canisius 10
'19 Liam Rosenthal (Central Bucks East, Pa.) made a pair of saves in relief and gobbled up a ground ball as the Colonials opened their season in style.
Chris Kirschner scored his first career hat trick on Saturday against Jacksonville. He is tied for the team lead with seven goals and is the @BIGEAST Freshman of the Week. #WeAreMarquette

🗒 https://t.co/U5IyNz9EGG pic.twitter.com/MUqQegEIMa

— Marquette Lacrosse (@MarquetteMLax) February 17, 2020
Jacksonville 11, Marquette 9
'19 Chris Kirschner (Immaculata) buried a hat trick and added a ground ball for the Golden Eagles en route to being named Big East Freshman of the Week.
Loyola 10, Johns Hopkins 7 
'16 Owen Colwell (Westfield) caused a turnover and had a ground ball for the Blue Jays, who also got six faceoff wins and four ground balls from '17 Kyle Prouty (New Egypt). '17 Jared Reinson (Montgomery) collected a loose ball for Hopkins.
North Carolina 24, Lafayette 8
'17 Andrew Robbins (Ramapo) sniped a pair of goals for the Leopards, while '18 Ryan Kirkwood (St. Peter's Prep) chipped in a couple of ground balls.
Hobart 26, Siena 9
'17 Jack Kiernan (Ridgewood) paced the Saints with a pair of assists and two ground balls.
Maryland 17, Penn 15
'16 Drew Robshaw (Mendham) sniped a goal for the Quakers.
High Point 16, Drexel 15
'17 Sean Quinn (Seton Hall Prep) collected a ground ball for the Dragons.
Princeton 20, Monmouth 9
'19 Matt Karsian (Ramapo) snared a ground ball for the Hawks.
Penn State 19, Saint Joseph's 4
'17 Jack Anderson (Mendham) secured a ground ball for the Hawks.
Division III
Cabrini 14, Haverford 2
'16 Kyle Myers (Johnson) helped the defending national champions start their season with a win by picking up a ground ball and causing a turnover.