Leading Edge in the NCAA First Round
Follow Leading Edge on Instagram, Twitter and Facebook.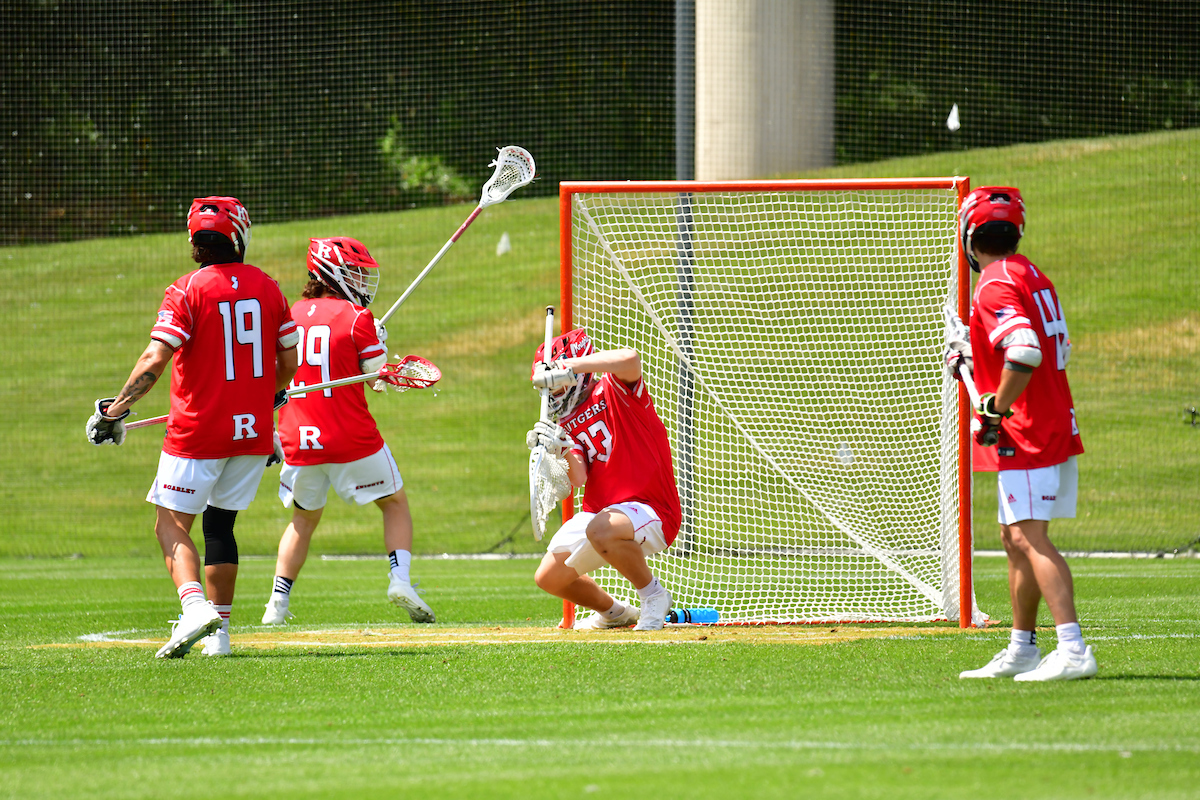 Kyle Kirst would be so proud.
The former Leading Edge and Summit coach, who passed away in 2015, was a goalie at Rutgers in 1990, the last time that the Scarlet Knights won an NCAA tournament game. Saturday, his two oldest sons helped Rutgers snap that streak in a game where his three oldest sons all played.
Leading Edge 2016 Colin Kirst (Seton Hall Prep) was flat-out brilliant, denying 17 of the 22 rips sent on cage, and Leading Edge 2015 Connor Kirst (Delbarton / Lawrenceville) fired home three goals as the Scarlet Knights upended Lehigh, 12-5.
From the backyard to Klöckner 🤝

Colin Kirst spoke with @paulcarcaterra about stoning his brother, Cole, in a @RUmlax win. pic.twitter.com/IQSAghjojT

— USA Lacrosse Magazine (@USALacrosseMag) May 15, 2021
Colin Kirst also grabbed seven ground balls as part of his incredible day, while Connor had two ground balls and a caused turnover. '17 LSM Zach Masessa (Montgomery) caused a pair of turnovers in front of Colin and added a ground ball.
'18 Cole Kirst (Seton Hall Prep) beat his brother for a goal once and also chipped in an assist to go with a caused turnover for Lehigh. Rutgers advances to play top-seeded North Carolina in the quarterfinals.
Georgetown 18, Syracuse 8
'17 Owen McElroy (Avon Old Farms, Conn.) continued his phenomenal campaign for the Hoyas with 10 saves and four ground balls as the Hoyas throttled the Orange. Georgetown advances to play Virginia.
Notre Dame 10, Drexel 8
'16 Sean Leahey (Seton Hall Prep) bagged a goal and added a ground ball to help the Irish fend off the Dragons' upset bid.
'17 Sean Quinn (Seton Hall Prep) caused a turnover and grabbed two ground balls for Drexel. Notre Dame moves on to take on Maryland.
North Carolina 16, Monmouth 4
'19 Matt Karsian (Ramapo) tallied once for the Hawks.
Division II
Tampa 24, Mount Olive 8
'19 Christian Cechini (Apex, N.C.) scored once and added an assist for the Spartans. Tampa fell in the following round two days later.
A program record 9️⃣ of our men were named to the All-NESCAC Team

Mac Bredahl, POY & 1st Team
Matt Treiber, 1st Team
Finn McTernan, 1st Team pic.twitter.com/2torDXo7Bp

— Tufts Lacrosse (@TuftsLacrosse) May 14, 2021
Division III
Tufts 16, Babson 7
Tufts 19, St. John Fisher 15
'18 Mac Bredahl (Chatham), recently named the NESCAC Player of the Year, led the charge with two goals, four assists, three ground balls and two caused turnovers in the rout of Babson. '19 LSM Lane McCarty (Delaware Valley) kicked the game off with his first career goal. Bredahl then pushed the Jumbos into the quarterfinals with a four-goal, one-ground ball effort against Fisher.
Cabrini 21, Grove City 11
Salisbury 16, Cabrini 5
'20 Max Drift (Montgomery) had a hat trick, an assist and four ground balls to pace the Cavaliers in the opener. He then capped a great freshman season with two goals in the loss.
Stevens 17, Catholic 12
Lynchburg 14, Stevens 8
'17 defenseman Jason Coyle (St. Peter's Prep) tossed in a goal to go with an assist and a ground ball to lead Stevens into the second round, where he added a caused turnover.