Leading Edge In The NCAA Division I Tournament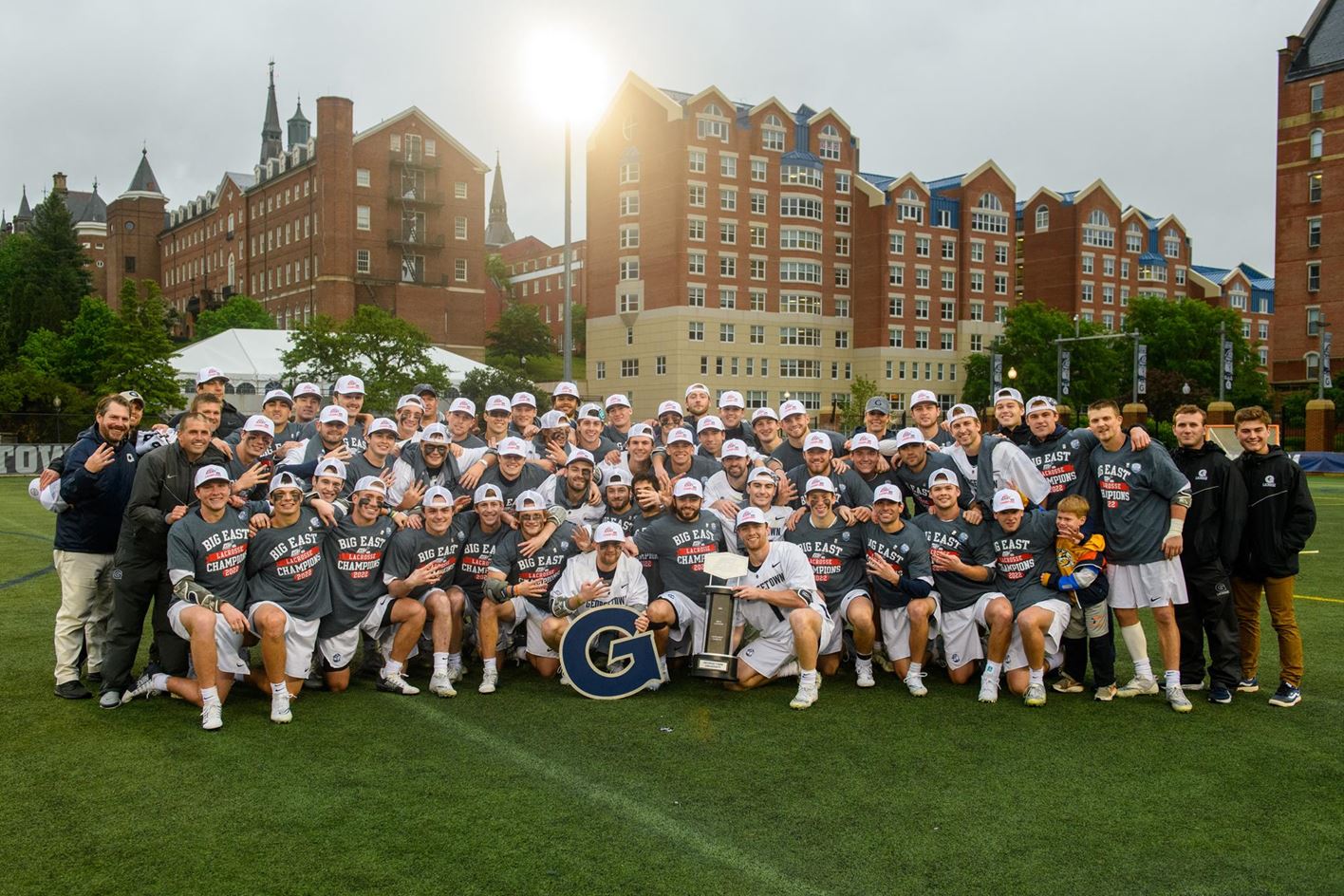 Follow Leading Edge on Instagram, Twitter and Facebook.
If Georgetown's going to win its first national championship, a pair of Leading Edge alums are going to have a lot to say about it.
The Big East champion Hoyas open up the NCAA Division I tournament Sunday at 7:30 against Delaware. Leading Edge 2017 alumnus Owen McElroy (Avon Old Farms) has been the best goalie in the country for the second consecutive year. He was recently tabbed as a USA Lacrosse Magazine first-team All-American after posting a 12-1 record. McElroy stopped 62.5 percent of shots sent his way, has allowed a scant 8.16 goals per game and has made double-digit saves in 10 of his 13 starts. That includes a whopping 24-save outing in an early-season win over Notre Dame.
Fellow '17 Connor Morin (Morristown-Beard) has been a huge boost to the Hoyas' offense in his first year at Georgetown. The Notre Dame transfer has 29 goals and eight assists, as well as 14 ground balls and five caused turnovers.
Penn Quakers vs. Richmond Spiders
'18 Jamie Zusi (Pingry) has been a sparkplug for the Quakers this year. He's won 153 of 291 faceoffs, good enough for a 52.6 percent winning percentage. He also has a team-leading 75 ground balls and two caused turnovers for the Ivy League champions, including a 15-for-28 performance in the title game against Yale.
'21 defenseman Griffin Kology (Chatham) has been a freshman force for the SOCON champions. Kology has started 14 of 15 games and is second on the team with 20 caused turnovers. He also has an assist and 18 ground balls. Penn and Richmond play Saturday at 2:30.
Rutgers Scarlet Knights vs. Harvard Crimson
The Scarlet Knights reached the Big Ten title game and earned an at-large bid as a result. For the second straight year, they've been led by '16 Colin Kirst. The Seton Hall Prep alumnus has been a wall in the Rutgers cage. He has started all 16 games, stopped 53.1 percent of shots and yields 10.96 goals per game. '20 Jack Aimone (Hunterdon Central) has nine goals, two assists and a pair of ground balls to his name.
'21 Logan Peters (Wall) has a goal in four games played. '17 Toby Burgdorf (Westfield) has backed up Kirst in three games, making five saves in the process. Rutgers takes on Harvard at 5 p.m. on Sunday.
Cornell Big Red vs. Ohio State Buckeyes
Turns out '20 CJ Kirst (Delbarton) is pretty talented. Who saw that coming?
The lefty sniper scored 42 times t0 go with 22 assists, 38 ground balls and 11 caused turnovers en route to earning Ivy League Rookie of the Year honors. He buried nine hat tricks in the process, which seems like a lot.
'21 Henry Blake (Brewster) is the lone Leading Edge alum on the OSU roster and is redshirting this year. Cornell and the Buckeyes tangle Sunday at 2:30.
Brown Bears vs. Virginia Cavaliers
The Bears, who won a share of the Ivy League's regular-season title, take on two-time defending national champion Virginia. '17 George Grell (St. Peter's Prep) has four man-up goals as part of a seven-goal, 12-assist campaign for the Bears. '21 defenseman Zander Valentini (Benjamin, Fla.) has nine ground balls and a trio of caused turnovers in 14 games played, while fellow '21 Brandon Bergner (Kent Denver, Colo.) has appeared in five games with a ground ball to his name.
'20 Connell Kumar (Seton Hall Prep) and UVA won the ACC title and are the lone ACC team in the tournament. He has a goal, an assist and five ground balls. The Bears and 'Hoos play at 7:30 on Saturday night.
Yale Bulldogs vs. Saint Joseph's Hawks
'17 Brian Tevlin (Seton Hall Prep) has once again been front and center for the Bulldogs. The senior captain has 12 goals, 11 assists, 35 ground balls and nine caused turnovers, proving that he's a true Swiss Army-knife midfielder. '21 Drew Friedman (Lawrenceville) has played in one game as a freshman.
'17 Jack Anderson (Mendham) has been excellent as a defensive midfielder for the Hawks. He has 15 ground balls, seven caused turnovers and a pair of assists. Saint Joseph's and the Bulldogs play Saturday at 5.
Princeton Tigers vs. Boston University Terriers
'20 defenseman Colin Freer (Westfield) has suited up in three games for the Tigers, snaring a ground ball in the process. The Tigers and Terriers square off Saturday at noon.