Leading Edge College Recap 5.3.21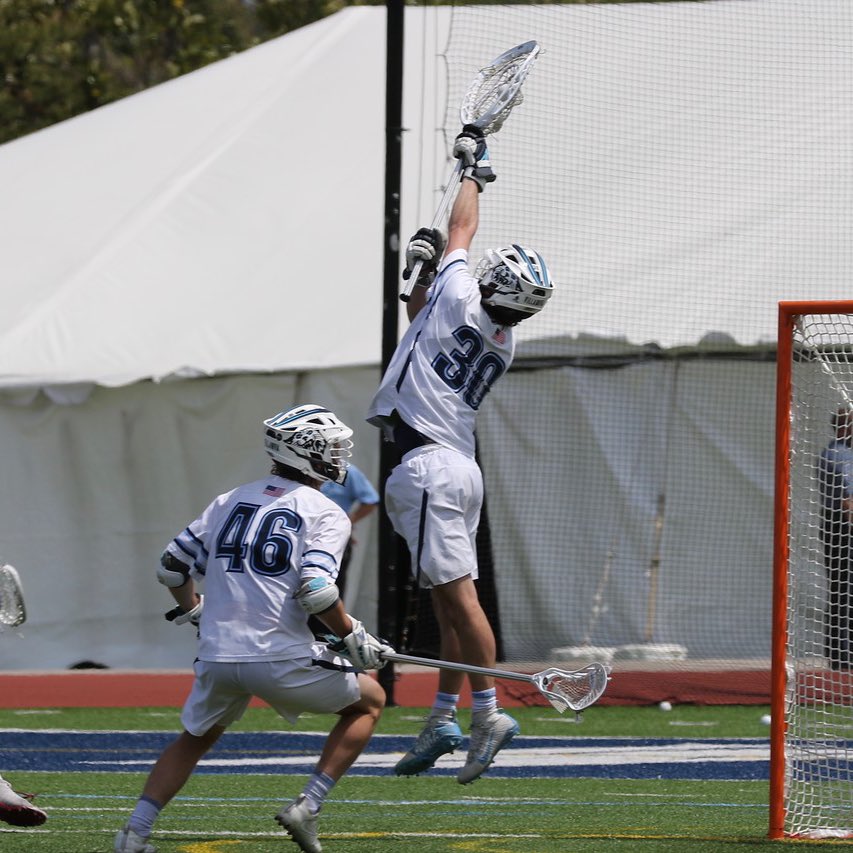 Follow Leading Edge on Instagram, Twitter and Facebook.
Will Vitton made sure that Lehigh didn't end its regular season with a goose egg in the loss column.
The Leading Edge 2018 alumnus by way of Summit made nine saves to lead Villanova to a stunning 16-8 rout of the previously unbeaten Mountain Hawks on Saturday.
The game marked Vitton's sixth game of nine or more saves this year. Fellow Summit alum '17 Corey McManus helped out at the other end with a hat trick. Villanova plays Georgetown in this week's Big East tournament.
'18 Cole Kirst (Seton Hall Prep) paced Lehigh with two goals and three ground balls.
How about the games from Griffin Westlin and Quinn McCahon today!? Both had 5 points off 3G and 2A in incredible performances.#GoIrish☘️ pic.twitter.com/uTEWo5jgOC

— Notre Dame Lacrosse (@NDlacrosse) May 2, 2021
Notre Dame 22, Syracuse 8
'18 Griffin Westlin (Seton Hall Prep) was the catalyst of the Irish's offensive explosion. Westlin netted a hat trick, set up two more goals, grabbed three ground balls and caused a turnover for Notre Dame, which swept the Orange this year.
Robert Morris 16, Utah 12
'19 Liam Rosenthal (Central Bucks East, Pa.) stopped 12 shots to lead the Colonials to the win.
'19 Brandon Hund (Johnson) dished out an assist and added a ground ball for the Tigers.
Drexel 12, Towson 11
'17 Sean Quinn (Seton Hall Prep) collected four ground balls to lead the Dragons past the Tigers.
Johns Hopkins 15, Penn State 7 
'17 defenseman Jared Reinson (Montgomery) was a force all over the field for the Blue Jays, setting up a goal, causing two turnovers and grabbing three ground balls as Hopkins won its Big Ten quarterfinal game.
'19 Canyon Birch (Manasquan) snared a ground ball for the Nittany Lions.
Loyola 11, Georgetown 9
'17 Owen McElroy (Avon Old Farms, Conn.) stuffed a dozen shots sent his way and added a half-dozen ground balls for the Hoyas.
Michigan 15, Ohio State 11
'20 Kyle Stephenson (Seton Hall Prep) snapped up a ground ball for the Wolverines, who stunned the Buckeyes in the Big Ten quarterfinal.
Monmouth 12, Siena 11
'17 Jack Kiernan (Ridgewood) nearly singlehandedly willed the Saints to an upset in the MAAC quarterfinals. He went off for five goals, two assists, six ground balls and a caused turnover for Siena.
High Point 16, Jacksonville 11
'16 Matt Stagnitta (Montgomery) dished out two assists and added a ground ball for the Dolphins.
Army 13, Colgate 11
'18 Ryan Decker (Chatham) scooped up two ground balls for the Raiders.
Air Force 9, Richmond 8
'19 Jack Fabean (Manasquan) snatched up a ground ball for the Spiders.
Hobart 14, Sacred Heart 12
'18 Joe Rice (St. Augustine Prep) collected a ground ball for the Pioneers.
Division III
Salisbury 29, Southern Virginia 14
'20 Mike Ricciardi (Mendham) buried his first goal for the Gulls.
Stevens 14, Widener 13
Stevens 25, Lycoming 3
'17 Jason Coyle (St. Peter's Prep) caused a pair of turnovers in the Widener game and followed it up with a ground ball in the rout of Lycoming.
Connecticut 13, Bates 12
'18 John Farrell (Seton Hall Prep) caused a turnover and grabbed two ground balls.