Leading Edge '23 Matthew Bockelmann Commits to Brown
Follow Leading Edge on Instagram, Twitter and Facebook.
If Matthew Bockelmann needed a jolt to get him to fully commit to putting in the work needed to become a Division I prospect, he got it from his inner circle.
Shortly after he started high school, someone close to Bockelmann told him that he wasn't good enough to play at the next level. That person said that he should pursue something else and give up the dream.
If it was meant as a motivator, it got the job done.
"Once I heard that, I just started hitting the weight room harder, running more and just playing better," the Leading Edge 2023 LSM / defenseman from Rumson-Fair Haven said. "What really also helped me flip the switch was seeing (older brother and Leading Edge 2022 attackman/midfielder) Christian commit to Yale. That kind of ramped it up for me."
Whatever it takes. The younger Bockelmann took that criticism to heart, in addition to using his brother's commitment as something for which to strive. He saw his game take off on a meteoric rise, one that really took flight this spring when he helped RFH to a 20-1 record. Bockelmann was named the Shore Conference's Specialist of the Year, and he parlayed that success into a lights-out summer for Leading Edge. He was tabbed as a standout at the NLF National Championships, club lacrosse's premier event.
Big Jump in Game
Not bad for a kid who was told he should quit.
"I kind of saw a big jump in my game that was similar to Christian's," Bockelmann said. "We both kind of matured at the same respective times (sophomore year to junior summer)."
That development made him an appealing prospect to a number of schools, including a handful of Ivy League schools. It's never easy to pare down a list with some of the top schools in the country, but Bockelmann had an idea of where he wanted to go. When he finally visited Brown, it was clear to him that he was destined to be a Bear.
"What stood out about Brown is the trust that they had in their players," Bockelmann said. "I went to a captains' practice and the kids just wanted to be there and they wanted to succeed, and the coaches trust them to do that. Brown's combination of academics and lacrosse impressed me. There's an unlimited amount of academic options there. It was really cool to me that you can create your own major and dabble in a little bit of everything as I find out what I want to do."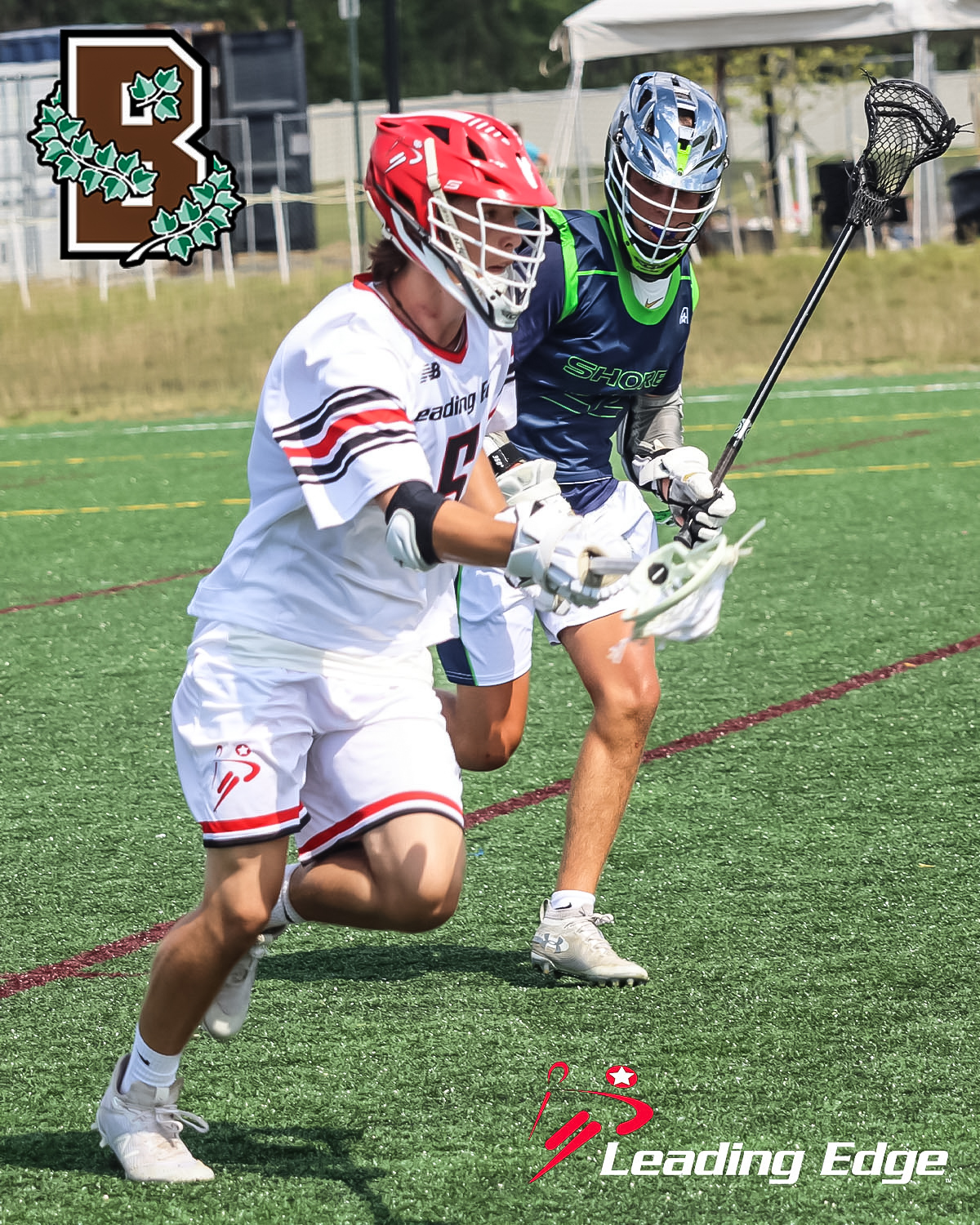 Brown Pipeline
Bockelmann quickly committed to Brown. He became the third Leading Edge '23 to verbal. That number has since jumped to five and will undoubtedly continue to skyrocket. He will join Leading Edge '22 Harry Laferriere (Kent, Conn.) and Leading Edge '21s Brandon Bergner (Kent Denver, Colo.) and Zander Valentini (Benjamin, Fla.) at Brown.
"I'm looking to go into either business or engineering," Bockelmann said. "Engineering is one of the hardest majors, especially when you're playing lacrosse, but I like a challenge. It's why I'm picking a school with both aspects. I grew up in an area where business success was prominent, so I'm interested in that, too."
A physical, aggressive, in-your-face pole, Bockelmann has been a mainstay at Leading Edge. He's taken away a lot from his experience, and it's a major reason why he's becoming a Bear.
"My experience with Leading Edge has been great," Bockelmann said. "One coach that separated himself for me was (Leading Edge '15 alum) Erik Dluhey. He showed me that aggression and me and him can relate to each other because he was a smaller defender at Albany. He was the one who showed me that aggressiveness can make up for the fact that you're not the biggest guy."
Bears Land a Pitbull
If he continues his trajectory, Bockelmann will be a problem for Ivy League midfielders and attackmen alike. Leading Edge director Chris Roy expects Bockelmann to make a splash for Mike Daly's Bears, and if Brown can make a run to the Final Four like it did in 2016, Bockelmann will likely be in the thick of things for the Bears.
"Matt has an incredible work ethic and plays the type of game that everybody loves to watch," Roy said. "He's constantly guarding guys out to the parking lot. He wants to challenge himself against the best and he's put in a ton of work to get to where he is. His energy is contagious and it makes you play harder. We're incredibly excited for him to end up at Brown and we know that he's going to make that program better."