Leading Edge '22 Konrad Miklaszewski Commits to Yale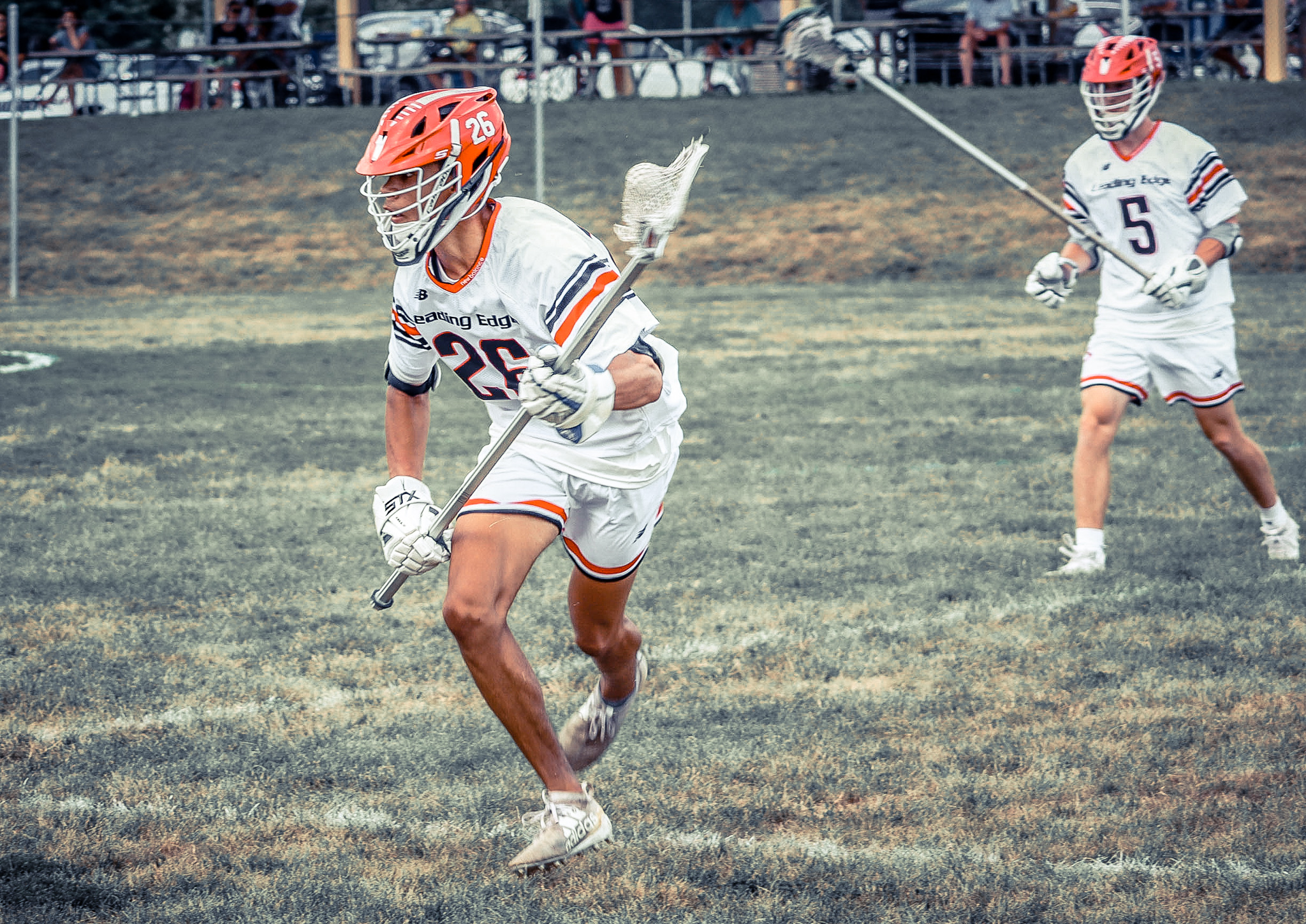 Follow Leading Edge on Instagram, Twitter and Facebook.
There's a chip firmly lodged on Konrad Miklaszewski's shoulder. It's been there for a few years, and by the looks of it, it's not going anywhere any time soon.
It dates back to his middle school days, where he was cut by a handful of teams, which sparked his original fire. He'd heard from plenty of his peers that he was only a B team player. He started to use that rejection to fuel his fire on the field and in the classroom, where he set himself apart from so many of those same peers.
The Leading Edge 2022 and Montclair LSM's game has been on the upswing since coming over to Leading Edge during his freshman year, but during quarantine, he saw an opportunity to entrench himself among the nation's elite players. It meant thrice-daily workouts that focused on improving his skill and body. Once summer finally around, there was no disputing that he was one of the most-improved players in the country and could go toe-to-toe with anyone.
On Sept. 1, he found out just how good he really was when Yale made him a priority and contacted him. The Bulldogs, national finalists in 2019 and national champions in 2018, have molded themselves into arguably THE program in college lacrosse. Yale's unique combination of elite athletics and perhaps even better academics make it a place where everyone wants to go.
"I was definitely really excited when they reached out, knowing their past success," Miklaszewski said. "They described their program in a different way than other schools. Yale didn't need to pitch their program because their success kind of just spoke for itself. They just said, 'if you want to be a part of something really different, then this is the place to be. Throughout my calls with other schools, I just felt that there was no other place like Yale with the coaches and program that they have."
Yale's First '22 Commitment
Miklaszewski didn't need to wait any longer to become the Bulldogs' first commitment in the '22 class. He is the second Leading Edge '22 to commit after Jaz Zanelli (Seton Hall Prep / Bucknell). He joins a list of impressive Leading Edge alums that have gone on to play at Yale, including '18 Jake Wornow (Westfield), '17 Brian Tevlin (Seton Hall Prep) and more.
Miklaszewski's emergence into one of the top LSMs in the country wasn't by luck. Those three workouts a day paid immediate dividends, but he really noticed them even more as he continued to work out like a mad man throughout the summer as others dialed their training back. Not only was he making more and more plays every game, but he felt that everything was validated when the Bulldogs had him so high on their board.
"I was kind of surprised that they reached out so early because that's the most top-notch program that you're going to get in the country," Miklaszewski said. "Once they called me, I could see what all of my work meant. I just always told myself that I want to be at a certain level and I'd never forget about it. Yale is the best that you can get. There's not a better option above Yale. Another thing that stood out to me about them was the amount of professionalism that they had."
Developing Into a Bulldog
Miklaszewski transitioned to Leading Edge as a freshman. As most players do, it required a bit of a transition period when playing with and against the best players in the country. He continued to develop, parlaying a strong fall into a quality performance at the NLF at IMG event in January. When he was on the field this summer, there was no disputing that the hard work had paid off.
"I knew when I came over to Leading Edge that the team was really good," Miklaszewski said. "I saw all the commitments and I heard from others how hard and how good Leading Edge was. If I wanted to see myself somewhere, I had to choose Leading Edge because the best players in New Jersey play there with the best coaches. Chris and Tim Roy have made it into a club lacrosse version of Division I. They really helped me work on my game. They don't sugarcoat anything. I attribute a lot of my success to them, and without them, I definitely won't have this much success."
It's absolutely no surprise to Chris Roy to see Miklaszewski end up at Yale. It's a perfect connection between a program and a player who have both made their bones off of outworking everyone.
"Konrad is an incredibly impressive kid who is destined for great things," Chris Roy said. "He has the same work ethic that so many of our best players have had. He never lost a sprint all summer long. He fits in perfectly with Yale's culture. I've never seen a kid with all of the makings that Konrad has. He's going to be an absolute monster within Yale's program. He is impressive in all aspects of his life. He just outworks everybody, and I think it's a big reason why he was atop a lot of schools' boards. I can't wait to see him blossom as a Bulldog, we are so proud of everything he's accomplished and I think that Coach Shay and his staff got themselves an absolute stud."
Leading Edge 2022 Commitments 
Konrad Miklaszewski, LSM, Montclair – Yale
Jaz Zanelli, goalie, Seton Hall Prep – Bucknell (Commitment story)