Follow Leading Edge on Instagram, Twitter and Facebook. 
Sebastian Birse thought that he was on the right path to being a Division I lacrosse player, but it's one thing to believe in it and another to know that it's your time.
This summer, the Leading Edge 2021 and Westfield defenseman and LSM carved out a reputation as a solid and steady cover guy who'd blanketed some of the best offensive players on one of the best '21 teams in the country. It wasn't until his phone started blowing up on Sept. 1, though, that he realized that he'd have an opportunity to fulfill a dream by playing at the highest level.
"On the night of Sept. 1, I got a couple texts from some Division I schools and I was just, like, 'wow, this could actually happen to me,'" Birse said. "At first, it was hard to filter through it all and see what was real and what wasn't."
As it seems to be for so many players, Birse's ultimate choice wasn't even on his original short list of schools. Despite that, it didn't take long for him to start taking a look at UMass.
"(Leading Edge director) Coach (Chris) Roy texted me asking me my thoughts on UMass, and I hadn't even looked there," Birse said. "When they reached out, though, I decided that I wanted to take a visit and when I went, I really loved the campus. I did some research, too, and I saw that their lacrosse program is very well-organized. Their coaches had a lot of experience. (UMass head coach) Coach (Greg) Cannella is going into his 26th year as a head coach and (UMass defensive coordinator) Coach (Doc) Schneider is going into his 11th year as an assistant. I just felt like I wanted to be at a school where the coaches were going to be there and cared about the players and the school itself."
With all of the boxes checked, it didn't make sense for Birse to wait it out any longer, and he promptly committed to the Minutemen. He's the fourth Leading Edge '21 to commit, all to Division I schools, after goalie Henry Blake (Brewster Academy, N.H. / Ohio State), defenseman Kevin Parnham (Pingry / Penn State) and LSM Colby Plotts (Sparta / Utah). Birse's commitment continues a strong pipeline of Leading Edge alums to UMass, and he'll join '20 Luke Blanc (Seton Hall Prep) and '19 Ben Cantwell (Moorestown) when he gets to campus.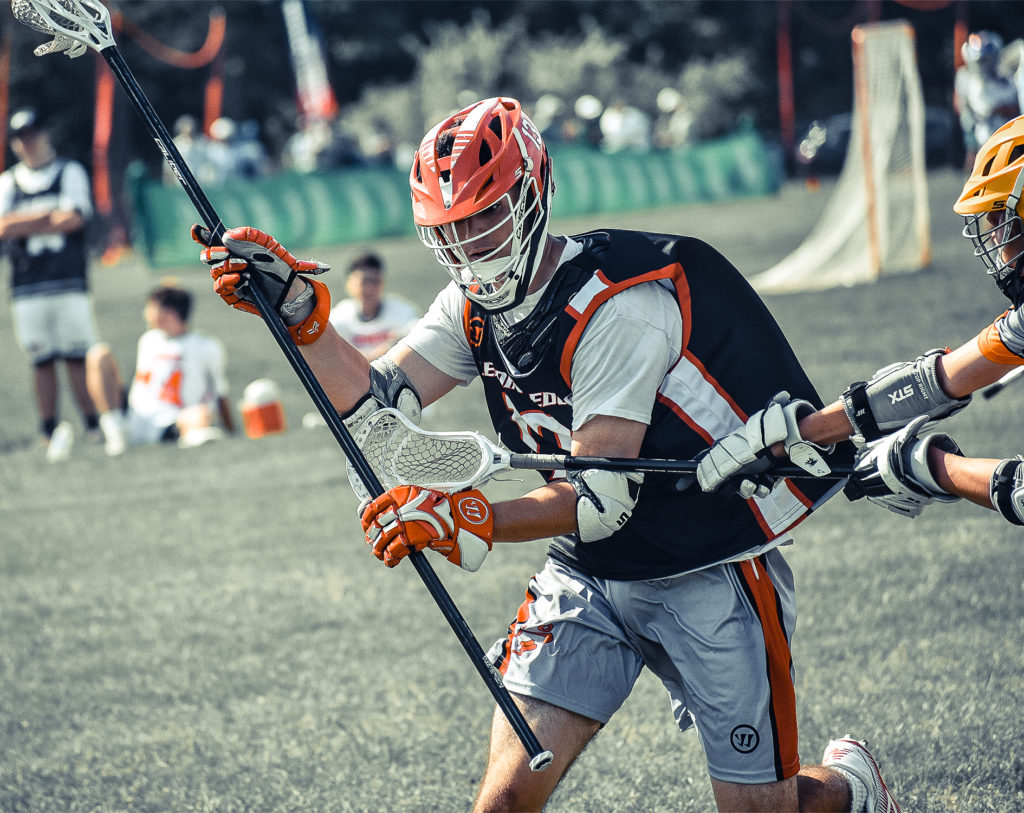 "Sebastian is a long, athletic and versatile defenseman with an outstanding stick and good hands," Roy said. "He makes a ton of plays in the middle of the field and I think that his best days are still ahead of him as he continues to grow physically and as a lacrosse player. He's been instrumental to our team success with his ability to blanket opposing attackmen, and he fits in well with what UMass is all about as a team. We're excited to see him play at UMass and we know that he's capable of doing great things there."
Birse plans to study business, and UMass' stout business program compares well with just about any school in the country. That was another feather in the Minutemen's cap in their chase for the standout.
"When I got to walk around and go inside the business school, it just really appealed to me, and they added a new renovation to it last year. It's 20th in the country for business schools and Coach Schneider made it clear to me that the business school actually competes well with Ivy League schools with how many opportunities they have. It had everything that I really wanted."
Birse prides himself on being fast, aggressive and versatile, and he knows that playing with Leading Edge put him in a position to go up against the best players in the country. That helped him blossom into a Division I prospect, and it'll be a big reason why he'll be a force at the next level.
"Leading Edge is always playing at the best tournaments and where the best competition is. We play where most schools go to see kids play, and we're mostly winning those games. That definitely helped."
So did taking a look around and finding the best fit for him.
Leading Edge 2021 Commitments
Sebastian Birse, defense/LSM, Westfield – UMass
Henry Blake, goalie, Brewster Academy (N.H.) – Ohio State (Commitment story)
Kevin Parnham, defense, Pingry – Penn State (Commitment story)
Colby Plotts, LSM, Sparta – Utah (Commitment story)