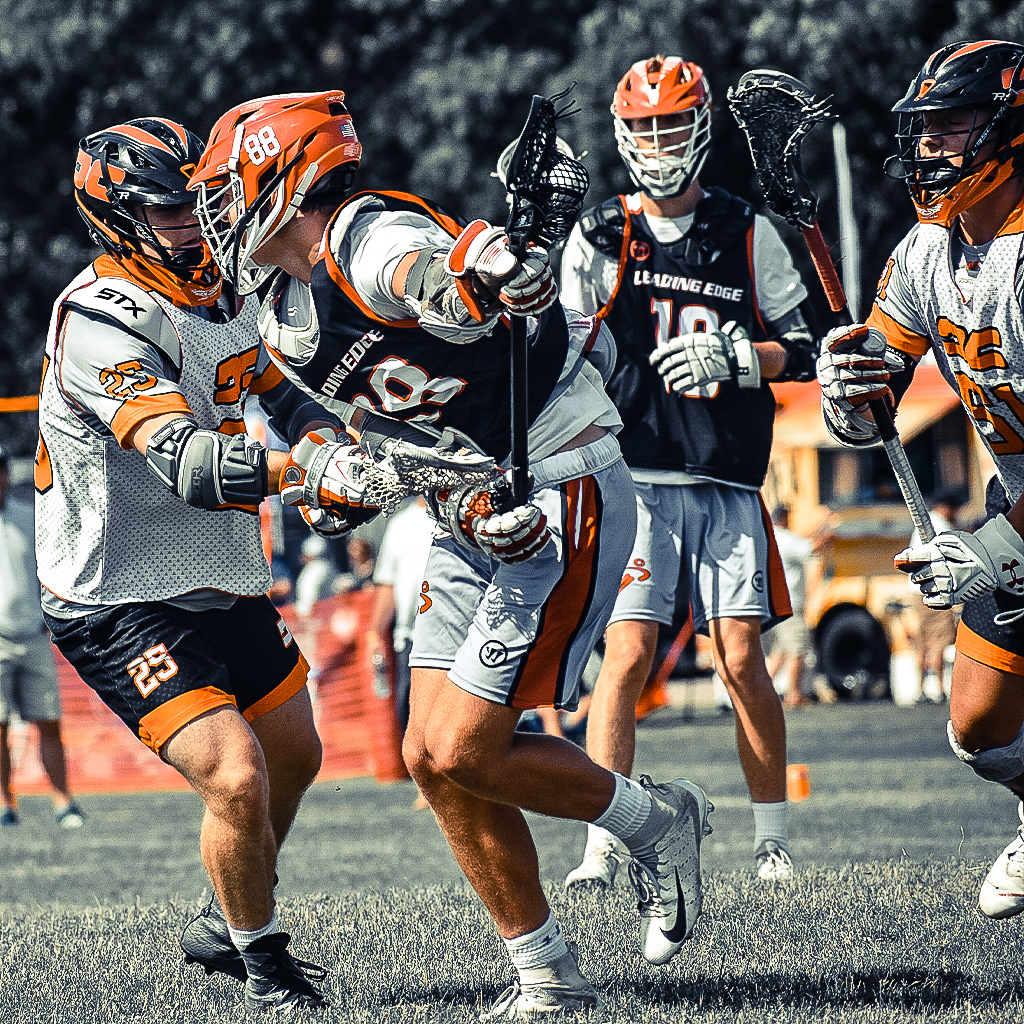 Follow Leading Edge on Instagram, Twitter and Facebook. 
Like so many other high-level class of 2021 prospects, Logan Peters was contacted by a handful of Division I schools on Sept. 1, the first day that those schools could reach out to 2021s.
The Leading Edge 2021 attackman, though, decided to keep his options open, which could have been somewhat of a risky proposition, considering his fall schedule. The 6-3, 195-pounder was busy as Wall's starting quarterback and safety, and all he did was lead the Crimson Knights to a state title on the strength of a 12-1 record with a combined 25 touchdowns, 1,931 total yards on offense to go along with four interceptions and 42 tackles.
All that time on the football field meant that he had to be judicious about which fall events that he could play in for Leading Edge, but it turns out that attackmen with his size, leadership ability and skill don't exactly grow on trees. It was even better that Rutgers, the local school that Peters grew up rooting for and had family ties to, was a school that reached out after seeing him play at the NLF Fall Invitational, an event that drew a record 339 college coaches.
"I never thought about Rutgers much until (Scarlet Knights head coach) Coach (Brian) Brecht called me, and then it intrigued me," Peters said. "I really liked everything when I visited, and he came to my high school to talk to me, and something like that really made me a lot more interested. I've always been a Rutgers fan, too. My uncle, Sean Cody, was an assistant basketball coach there and my other uncle is really good friends with (Rutgers football coach) Greg Schiano. I grew up watching Rutgers and seeing guys like (Leading Edge '14 alum and PLL star) Jules Heningburg, so it's really cool."
It didn't take much longer for Peters to commit to the Scarlet Knights, becoming the ninth Leading Edge '21 to commit. He'll join fellow Leading Edge products in '20 Jack Aimone (Hunterdon Central), '19 James Pendergist (Manasquan) and '19 Tyler Neal (Delaware Valley) on campus.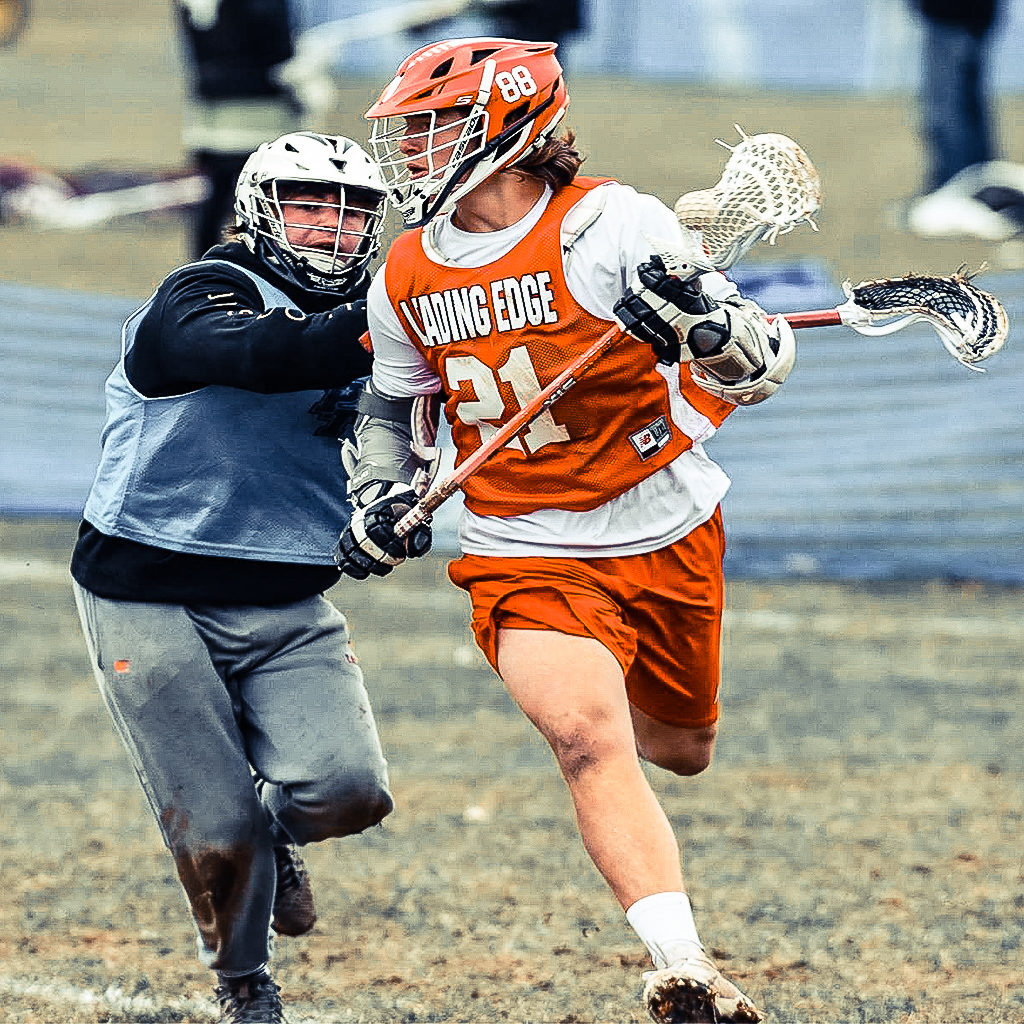 "Staying home makes it a lot easier and simple for me," Peters said. "Being close to home and having my connection with my family, I can always go home if I have to, and at the end of the day, it's also about competing with the best. The Big Ten is a great level of lacrosse. I know that being in the Big Ten is the best competition that you're going to see, and I want to play at the highest stage. I want to be in the spotlight making a play."
After playing the best competition in the country through Leading Edge's rigorous schedule, a perk of being a founding member of the National Lacrosse Federation, it stood to reason that Peters wanted to continue playing the best. Since joining Leading Edge three years ago, he's continually improved his craft, and now, he's an elite attackman with the creativity, vision, physicality and all-around game with the potential to make an impact in the Big Ten.
"Logan is an exceptional multi-sport athlete who shines on the football field, on the basketball court and on the lacrosse field. You definitely notice his athleticism, leadership and competitiveness right away, and his game has improved so much since he came over to Leading Edge," Leading Edge director Chris Roy said. "He's put in a ton of time to his development even though he's involved in so many other things, and he's got so much potential that it wouldn't be surprising to see him be an even better college player. It's awesome to see such a competitor be rewarded for his hard work, and we're excited that we won't have to travel very far to see him play for Coach Brecht against the best teams in the country. We can't wait to see what he does at Rutgers, and we're very proud of him."
After a 12-point freshman year at Wall, Peters erupted for a 97-point sophomore campaign, split nearly down the middle with 52 goals and 45 assists. He prides himself on his vision and equates having the ball in his stick to being the quarterback and having the football in his hands, and he loves finding the open guy and hitting him in stride. It took some adjustment at first, but it's working out well now.
"My passing and vision have gotten so much better thanks to the cuts that my teammates make," Peters said. "Those guys are always getting open. I think I see the field well, but I wasn't always able to make those passes. The Leading Edge coaches have also really taught me and made me such a better lacrosse player. Chris and Tim Roy hold you to such a high standard and they'll call you on it if you're not giving your all. I love how they're straight up. I don't want a coach who's going to sugar coat things, and Chris has told us, 'you have to get it because nobody's going to give it to you.'"
Consider that Rutgers commitment earned, then.
Leading Edge 2021 Commitments
Brandon Bergner, attack/midfield, Kent Denver (Colo.) – Brown (Commitment story)
Sebastian Birse, defense/LSM, Westfield – UMass (Commitment story)
Henry Blake, goalie, Brewster Academy (N.H.) – Ohio State (Commitment story)
Mason Bregman, attack, Lenape – UMass
Will Ferraro, midfield, Seton Hall Prep – Providence
Cal McPherson, midfield, Pingry – Holy Cross (Commitment story)
Kevin Parnham, defense, Pingry – Penn State (Commitment story)
Logan Peters, attack, Wall – Rutgers
Colby Plotts, LSM, Sparta – Utah (Commitment story)