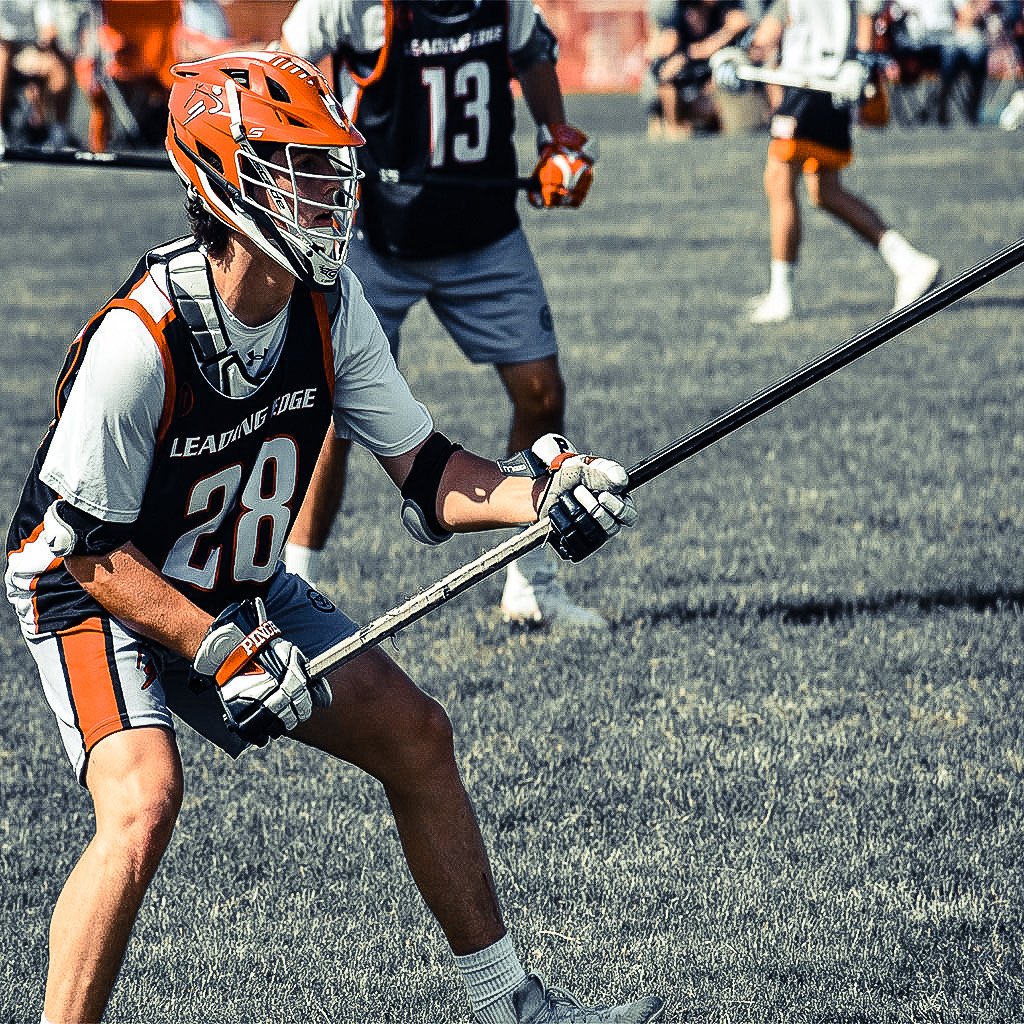 2021 | Penn State | Pingry
Follow Leading Edge on Instagram, Twitter and Facebook.
Growing up with an older brother has a certain way of shaping boys, often giving them someone to look up to and try to emulate.
There's no question that Kevin Parnham has that with his older brother, Riley, but having a six-year difference between the two also meant that, well, sometimes, you have to learn how to fend for yourself if you want to keep up.
"He used to beat in me in literally everything," the younger Parnham said. "Whether it was hockey, lacrosse or whatever it was – mostly knee hockey, actually – he was always bigger than me and it didn't matter how hard I hit him. He'd still beat me."
The elder Parnham played two years of Division III soccer at Roger Williams before transferring to Clemson, and it's clear that he left an impression and, perhaps unwittingly, had a major impact on his younger brother's development as a lacrosse defenseman. The Leading Edge 2021 and Pingry standout carved out a reputation for himself as a mean, physical and aggressive leader on the back end, and a lot of those attributes can be traced back to having to find ways to beat his older brother. It's something that was reinforced quite often through his coaching at Leading Edge.
"(Leading Edge director) Chris Roy taught us that you don't have to be the best defender or throw crazy checks, but you need a good body and you need to be aggressive," Parnham said. "If you look at Leading Edge's history, Chris Roy just breeds mean, nasty defensemen."
Parnham is the latest in that group, and his temperament and playing style quickly caught the eye of a multitude of big-time Division I schools. Despite that, Parnham found himself shocked when Penn State first expressed interest. Parnham knew he'd been playing well, but…
"I was surprised that they called after the season that they just had. They won the Big Ten and made the Final Four, and I just thought it was a great opportunity that I didn't know that I was going to have," Parnham said. "When I stepped on campus, there wasn't a cloud in the sky and it was an absolutely perfect day as I was walking around campus, and it pretty much summed up how I felt about Penn State."
It wasn't long after that Parnham decided to end his recruitment, opting for the Nittany Lions as Leading Edge's second '21 commit after Henry Blake (Brewster Academy, N.H.) chose Big Ten rival Ohio State last week. Parnham is the third player in Leading Edge history to choose Penn State, where he'll join '19 alumnus Canyon Birch (Manasquan).
"I loved the coaches, and the guys that I met were all great," Parnham said. "I loved the campus, and Penn State playing in the Big Ten and being a big football school was a major appeal to me. It's insane to me, and I don't know that it's completely set in yet. I'm very excited for it. I know it's going to be hard, but I'm looking forward to the challenge."
Parnham, who also doubles as Pingry hockey's starting goalie, made an initial impression this summer at the NLF Opening Weekend and followed it up with consistently excellent play against elite competition throughout the season. Going up against the best players in the country was a major reason why he initially made the move to Leading Edge in the summer of seventh grade, a decision that's paid dividends for him ever since.
"I was lucky enough to make the team, and there wasn't a question in my mind that I was ready to be a part of the Leading Edge assembly line of great players," Parnham said. "We've been playing the best competition, and you can see all of these guys that we've played against committing to Big Ten and ACC schools. That's who we play against every weekend, and I think it's made us one of the best teams in the country."
"I also think that Chris and Tim Roy and all of the coaches at Leading Edge have taken some of my initial passion for lacrosse and raw talent and have shaped me into the aggressive defenseman that I like to be known as," Parnham added. "They've elevated my game 1,000 times and I can't thank them enough for it. They've made me the lacrosse player that I am today."
Luckily for Penn State, that player is one of the very best in the country. Parnham checked in as the No. 40 player in the inaugural National Lacrosse Federation class of 2021 rankings and as the No. 48 player in the first Inside Lacrosse rankings. Nittany Lions' head coach Jeff Tambroni and his staff should be excited about what's in store both on and off the field.
"Kevin is an ultra-competitive, very gritty lockdown defenseman," Chris Roy said. "He's definitely a leader of the team and he'll even sometimes take over the huddle to get the team going. He plays with that tough, aggressive, mean disposition that you love to see in defensemen, and I think that Coach Tambroni locked down one of the very best defensemen in the country. I'm really proud of Kevin and I'm excited to see him in Penn State blue and white."
All of those sibling battles finally paid off.