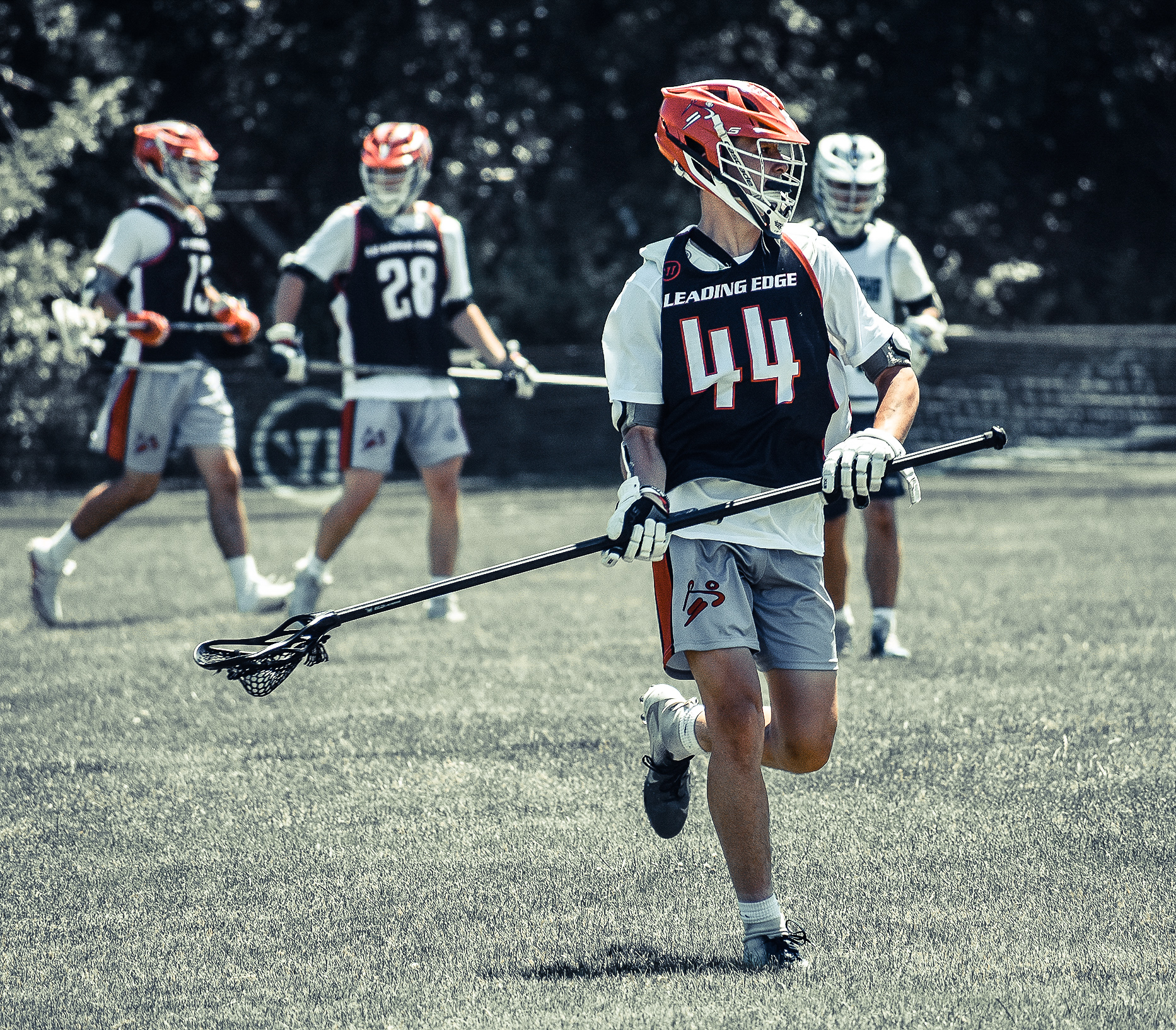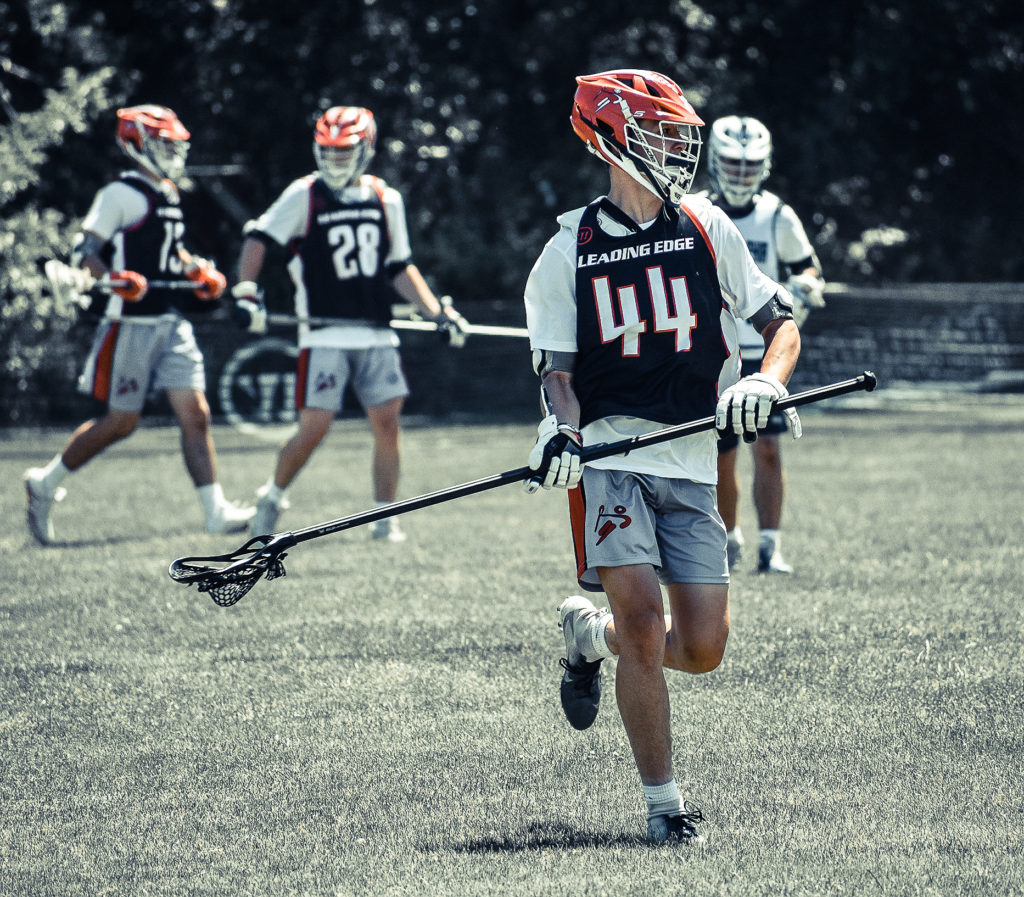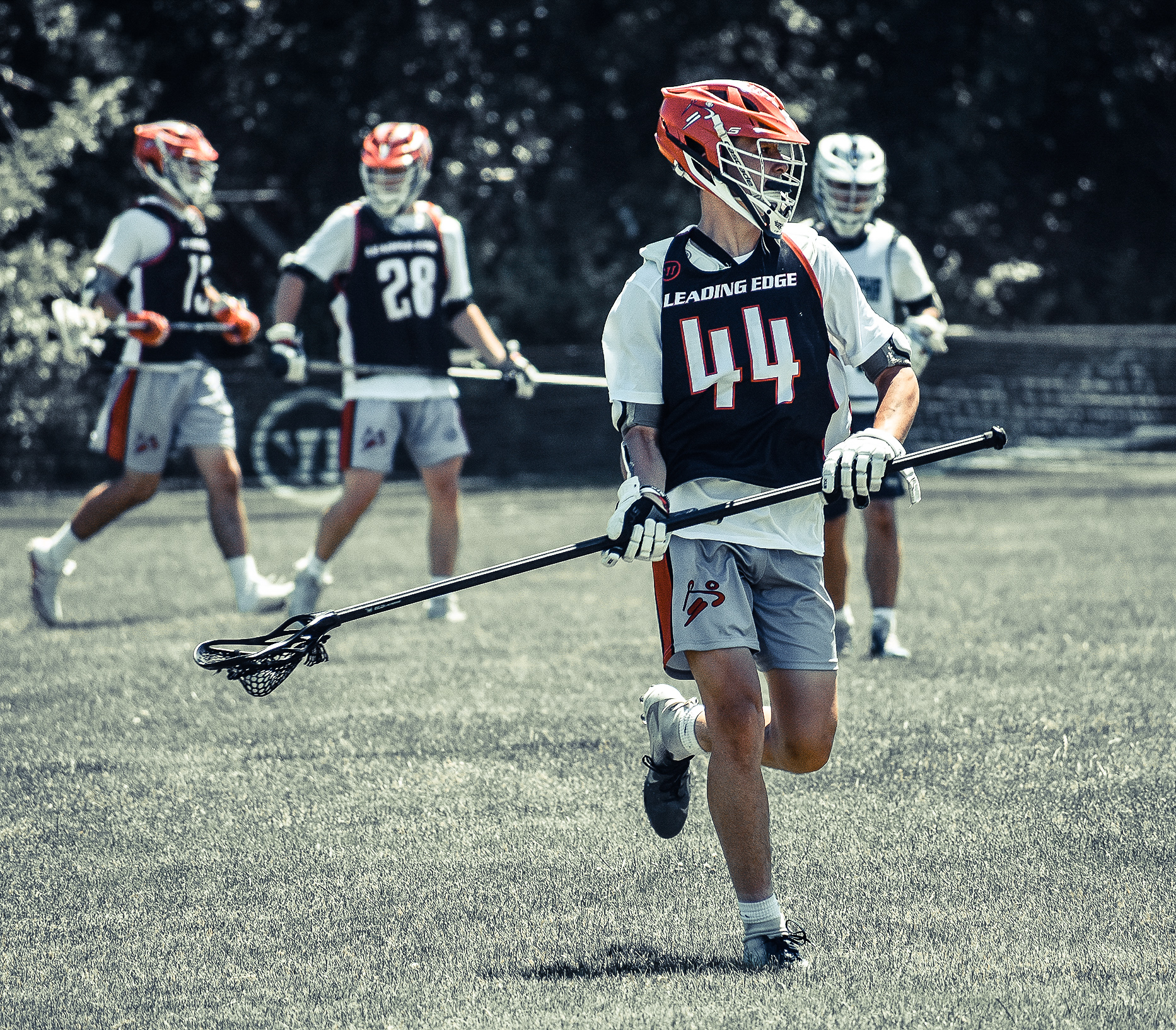 Follow Leading Edge on Instagram, Twitter and Facebook. 
It's easy to look at the way that Colby Plotts plays and assume that he's been able to push the pace and score as well as any LSM in the 2021 class for as long as he's played, but his lacrosse debut was significantly more… unceremonious than that. It wasn't until a position switch and an apprenticeship from YouTube that the Leading Edge 2021 and Sparta LSM figured out what he was doing.
"When I first started playing lacrosse, I definitely didn't know what I was doing," Plotts said. "I played short stick until eighth grade, and when I switched to pole, I definitely had that offensive mindset. I'd watch YouTube and see some stuff on Instagram from other guys."
It helped that Plotts has prided himself on being a three-sport athlete, one who plays wide receiver and defensive back on the football field and power forward on the basketball court. His unique combination of size, athleticism and stick skills made him a Division I prospect, but when he first started the process, he kept his eyes set on the East Coast, as most players do. That was until a phone call changed it all.
"I got a call from (Utah head coach) Coach (Brian) Holman, and I could just tell from the tone of his voice, he was very passionate and enthusiastic about the program. I had taken a couple calls before him, but he really just stood out from any other coach," Plotts said. "I got a call from (assistant coach) Coach (Adam) Ghittelman and it was the same thing. He was so energetic and positive. It felt like I was talking to a friend, and I ended up deciding that I'd love to go take a look at the school."
Once he made it on campus in Salt Lake City, his recruitment came to an end really quickly.
"The mountains looked fake because of how unbelievable it all looked," Plotts said. "The scenery was insane. It was nothing like New Jersey, and that really stood out to me. The mountains are right around campus and the campus is really nice. I love the new modern theme and it made everything look so clean and original. When I got to meet the coaching staff, they were just so energetic and positive, and I don't think you can have a better coaching staff in the country. The head coach won a national championship and his son (Marcus Holman) and the two other coaches (Ghittelman and Will Manny) are all still playing in the PLL. It's like an all-star coaching staff."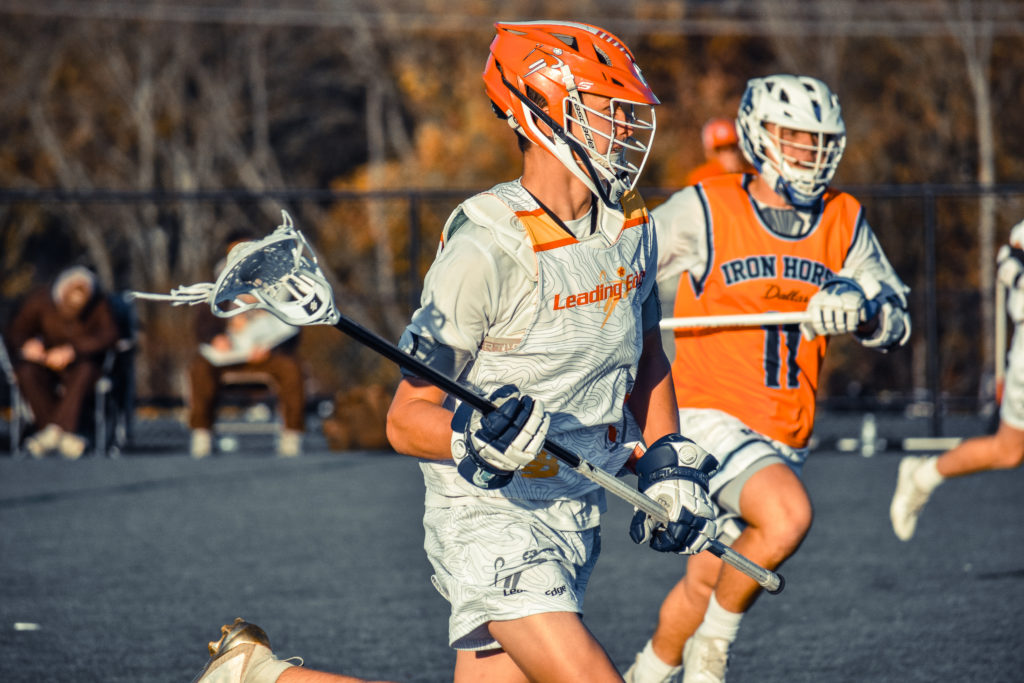 Plotts promptly committed to the Utes, becoming the third Leading Edge '21 to commit – after Henry Blake (Brewster, N.H. / Ohio State) and Kevin Parnham (Pingry / Penn State) – and the first player in program history to choose Utah, which competed at the Division I level for the first time in 2019.
"All of the places that I visited were different, but the environment at Utah was different than anything else," Plotts said. "I went to the Utah-Arizona State football game and the place was absolutely packed. The stadium was never quiet and everyone was so energetic and upbeat. It's crazy because when I first started my recruitment, Utah wasn't on my mind. I was looking on the East Coast and when I got the ball, it stood out compared to others because it was out of the ordinary and looked so interesting to me."
The Utes' transition game will definitely get more exciting when Plotts gets to campus. He's the type of player who can goose a ground ball out of a scrum, snag it and outrun everyone the other way. Once he hits the restraining line, there is absolutely no fear as to whether or not he can let it fly.
"I think that Colby is an outstanding LSM prospect for Utah, and he landed at a perfect school for him," Leading Edge director Chris Roy said. "You're not going to find many poles who can handle the ball like him and he makes a couple plays every game that really jump off the page. He's a perfect fit for the shot-clock era, and I'm really proud of how he has taken to coaching and worked hard to become a Division I player. He's in great hands with an all-star coaching staff and we're excited to see what he brings to the table for the Utes."
It didn't hurt for Plotts to play on a stacked team like Leading Edge, a group that has kept many of the same players throughout the year. Playing against a rigorous schedule, year and season in, year and season out, helped bring out the best in him, and he acknowledged that it played a major role in his development.
"I've been playing with teammates for the past five years, and our chemistry is top-end," Plotts said. "We know everyone inside and out, and there are no better teams to play in the country than the ones we're playing. The Roys (Chris and Tim) have definitely helped me grow as a player, too. There's no gray with them. They'll tell you to your face whether it's good or bad, and it helps because it makes you more coachable. I'll always have those little tips to take with me."
He can take them right to Salt Lake City.