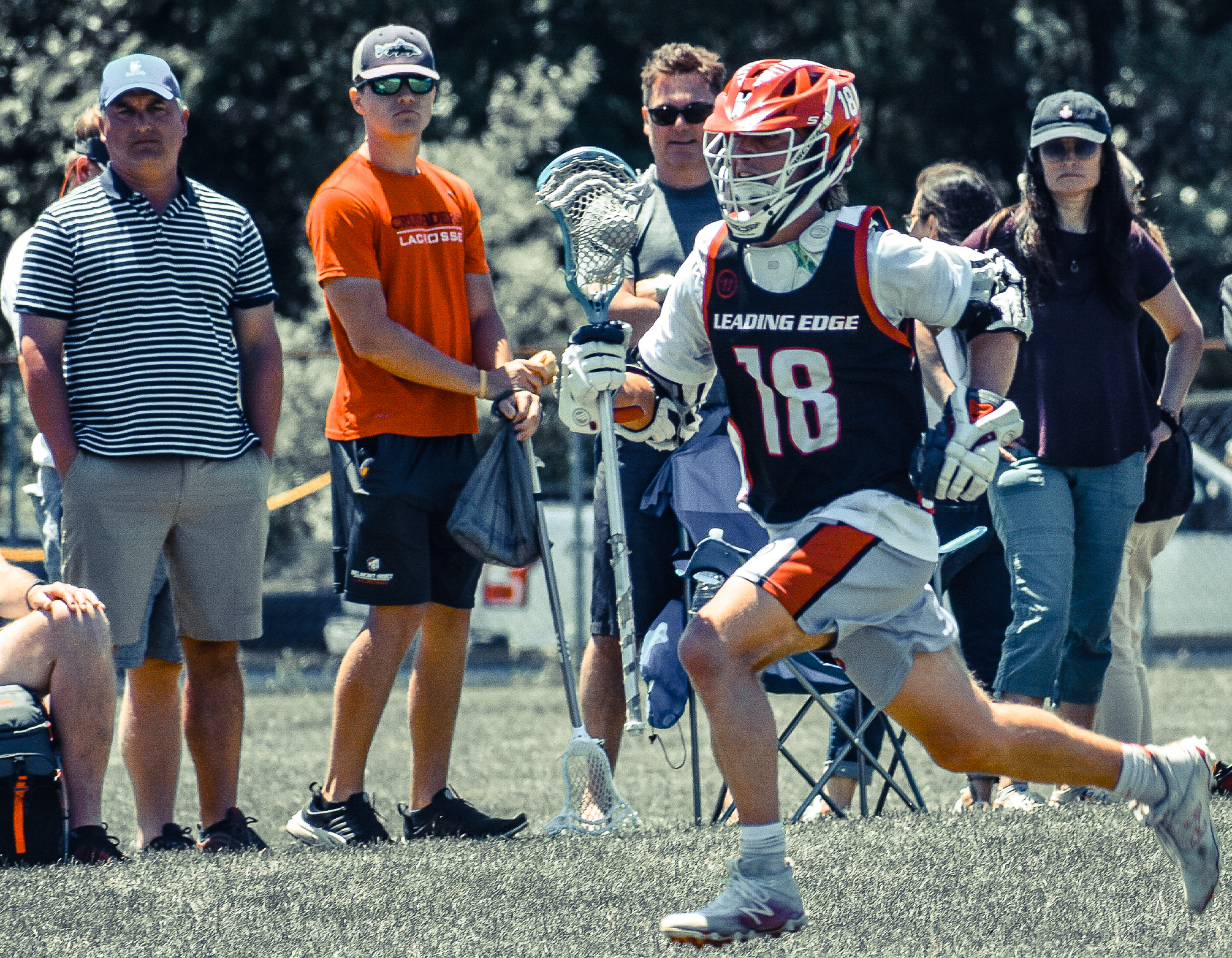 2021 | Holy Cross | Pingry
Follow Leading Edge on Instagram, Twitter and Facebook. 
Cal McPherson had his fair share of great schools vying for his commitment.
Watch the Leading Edge 2021 and Pingry midfielder play, and there's no surprise that college coaches were clamoring for him to join their program. One of them, though, just happened to have an ace in the hole with a record-setting alum that also played for Leading Edge.
"(Leading Edge '15 and Holy Cross alum) Matt Farrell was definitely pushing me to go to Holy Cross," McPherson said with a laugh. "Him and the alumni that I know from there really separated the school for me. He was a big help to me and explained everything to me, from the ups and downs to everything that goes on with the school."
Farrell, the first player in Crusaders history to be named a first-team All-Patriot League selection and the school's all-time caused turnover leader, must have done a decent job of selling the school to McPherson. On the flip side, McPherson's father, Kevin, also had a sizable impact, and the combination helped the younger McPherson make his decision.
"My dad works in finance in New York City and I think that's what I'm interested in doing," McPherson said. "Holy Cross has a lot of connections there and they have a really good economics program. It's always something that I've been interested in, especially since I look up to my dad a lot. My cousin, Tim Dick, plays at Georgetown, and he also talked to me about how important it is to go to a good school."
With so many factors pointing to Holy Cross, it made sense for McPherson to commit to the Crusaders. He's the sixth Leading Edge '21 to commit, all to Division I schools, and he'll join '18 alum Chris Conlin (Chatham) on the team.
"Holy Cross reached out on Sept. 1, and while I was talking to a few really good schools, I stuck with Holy Cross all the way through and decided that it was the best place for me," McPherson said. "I just think it's the environment there. All the kids there are super nice and welcoming, and (Crusaders head coach) Coach (Peter) Burke is a great guy. All of the connections that the school has all kind of added up for me. It was kind of a long process and I'm glad to be done with it."
Two-way midfielders like McPherson are the rage in today's shot-clock era, so it's no surprise that he was in high demand with some outstanding schools. Leading Edge director Chris Roy knows what Holy Cross is getting, and it sure sounds like the Crusaders got significantly better by adding McPherson.
"Cal is a very technically sound midfielder who absolutely embraces and relishes the mindset of being able to make plays all over the field," Roy said. "Defensively, he understands both individual and team defense concepts, and he's really good at getting the ball up and out the other way. I love the way he approaches the game, and he's worked incredibly hard to put himself in this position. I think Holy Cross is a great fit for him academically and athletically and I won't be surprised at all when he makes a major impact for Coach Burke and the Crusaders."
McPherson's versatility has always been his calling card, and it all started when he started running out of the midfield growing up playing in Summit rec because he wanted to play more. In his time with Leading Edge, he's polished his game after going up against elite competition, and he feels like he'll make a seamless adjustment to the up-tempo college game.
"When I saw that they changed the rules, I thought, 'sweet, that fits me perfectly,'" said McPherson, who also plays hockey for Pingry. "I've learned a lot since I started playing for Leading Edge, especially with Coach Roy teaching hard work, perseverance and working hard as a team. I also think that the schedule has been really helpful. When you're playing the best teams every weekend, especially the NLF teams, it's a bunch of tough kids and it just makes you better. It starts shifting you toward the college level and it definitely helps your game develop."
Hard to argue with the results.
Leading Edge 2021 Commitments
Brandon Bergner, attack/midfield, Kent Denver (Colo.) – Brown (Commitment story)
Sebastian Birse, defense/LSM, Westfield – UMass (Commitment story)
Henry Blake, goalie, Brewster Academy (N.H.) – Ohio State (Commitment story)
Cal McPherson, midfield, Pingry – Holy Cross
Kevin Parnham, defense, Pingry – Penn State (Commitment story)
Colby Plotts, LSM, Sparta – Utah (Commitment story)