2023 Leading Edge in College: March 13 Recap
Follow Leading Edge on Instagram, Twitter and Facebook. Did we miss someone? Let us know. 
Rewatching some of the Notre Dame/Ohio State game.

Are we CERTAIN there's only one Brian Tevlin on the roster for the Irish? They don't have clones or something? Struggling with the idea that one person can do all the things Tevlin is doing for them right now.

— Dan Arestia (@danarestia) March 13, 2023
In a battle of two top-10 teams, No. 2 Notre Dame made an emphatic statement.
Leading Edge 2018 Griffin Westlin helped the Irish roll Ohio State, 16-3, on the strength of a goal and an assist. The Seton Hall Prep alum also picked up two ground balls for Notre Dame, which also got a goal and a caused turnover from do-it-all midfielder '17 Brian Tevlin (Seton Hall Prep).
BACK ON TOP! Jack Aimone scores and we lead, 12-11! pic.twitter.com/XC1PzjtiFJ

— Rutgers Men's LAX (@RUmlax) March 11, 2023
Rutgers 14, Princeton 13
'20 Jack Aimone (Hunterdon Central) scored once and added a ground ball to help the Scarlet Knights win the 100th installment of the Tots Meistrell Cup. '22 Andrew Macheca (Culver, Ind.) forced a turnover for Rutgers.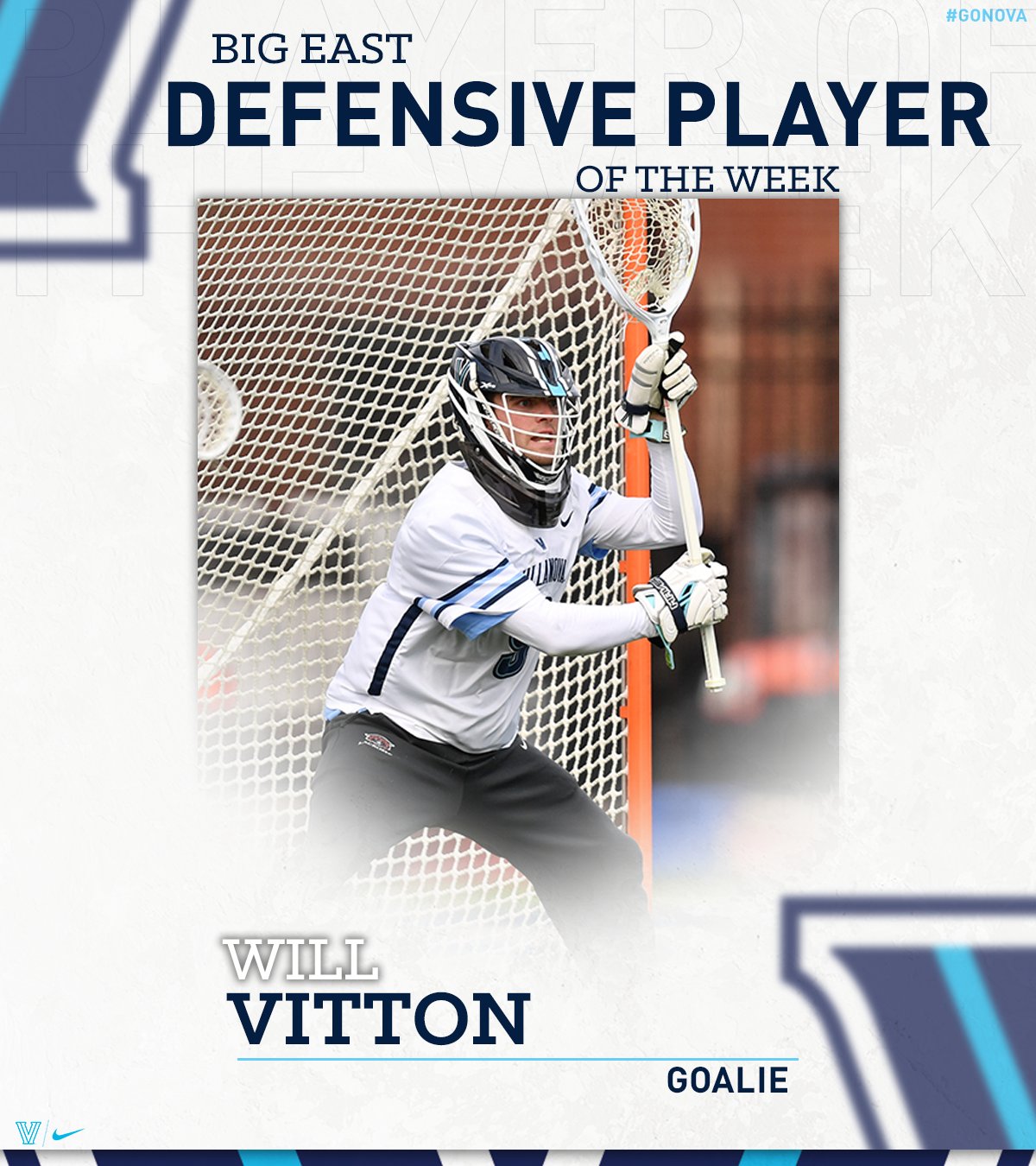 Villanova 14, Drexel 7
Villanova 9, Penn 8
Reigning Big East Defensive Player of the Week '20 Reid Colwell (Westfield) got right back to work, spearing out two turnovers and grabbing two ground balls to highlight the win over the Dragons. He was even better in the win over the Quakers, knocking out three turnovers and corralling four ground balls as the Wildcats won their fourth straight game.
'18 Will Vitton (Summit) tossed aside 10 shots and picked up three ground balls for Villanova against Drexel. He added 11 saves to cement the win over the Quakers and pick up Big East Defensive Player of the Week honors.
Colgate 17, Navy 8
'21 Jack Turner (Ridge) scored once and set up another to help the Raiders to their first win of the season. '21 Ethan Cronk (Ridgewood) won three faceoffs to help cement the win.
Lehigh 18, Holy Cross 11
'20 Aidan Decker (Chatham) helped the Mountain Hawks move to 2-0 in the Patriot League with a goal.
'21 Calahan McPherson (Pingry) fired home his first career goal and added a ground ball for the Crusaders. '22 Tyler Marmo (Avon Old Farms, Conn.) dished out an assist and collected a ground ball.
Air Force 11, Bryant 6
'19 Gavin Peene (Ridgewood) tallied once to help the Falcons to their second straight win.
Duke 17, Loyola 9
'20 LSM Cole Krauss (Delbarton) vacuumed up a pair of ground balls to pace the Blue Devils.
Richmond 11, Mercer 6
Georgetown 13, Richmond 12
'19 defenseman Jack Fabean (Manasquan) caused two turnovers and added two ground balls against Mercer. He followed it up with a two-ground ball, one-assist day against the Hoyas.
Bellarmine 11, Marquette 10
'20 Luke Blanc (Seton Hall Prep) snapped home a hat trick to lead Marquette.
Penn State 10, Cornell 6
'20 CJ Kirst (Delbarton) scored twice, set up another and grabbed a ground ball for the Big Red.
Boston University 14, Bucknell 12
'22 Jaz Zanelli (Seton Hall Prep) denied 14 shots sent his way, grabbed three ground balls and caused a turnover for the Bison.
North Carolina 19, Brown 6
'21 Brandon Bergner (Kent Denver, Colo.) collected two ground balls and '22 Harry Laferriere (Avon Old Farms, Conn.) stopped two shots in relief for the Bears.
Marist 16, Wagner 7
'22 Chase Alber (Scotch Plains-Fanwood) snagged a ground ball for the Seahawks.
Division II
Tampa 20, Embry-Riddle 3
Tampa 19, Palm Beach Atlantic 4
'19 Canyon Birch (Manasquan) helped guide the Spartans to a pair of blowouts. Birch put up two goals and three assists and a caused turnover against Embry-Riddle before following it up with a goal, a helper and a ground ball against PBA.
'19 Christian Cechini (Apex, N.C.) doled out an assist, while '19 Mike LaPoint (Manasquan) made one save in relief against PBA.
Division III
Gettysburg 15, Washington & Lee 9
'21 Jack Dunleavy (Seton Hall Prep) fired home a pair of goals and grabbed a ground ball to pace the Bullets.
Franklin & Marshall 14, Roanoke 9
Elizabethtown 14, Franklin & Marshall 13
'22 Cullen Decker (Chatham) popped a pair of goals and picked up a ground ball to lead the Diplomats past Roanoke. He added two goals, an assist and two ground balls against Elizabethtown.
Union 12, Williams 4
Williams 15, Colby 8
'22 Cade Schuckman (Mountain Lakes) picked up a ground ball against Union and followed it up with two goals to get the Ephs back in the win column.
RIT 17, Ursinus 10
'19 Tyler Neal (Delaware Valley) paired two goals with two assists and also added a caused turnover and a ground ball for the Bears.